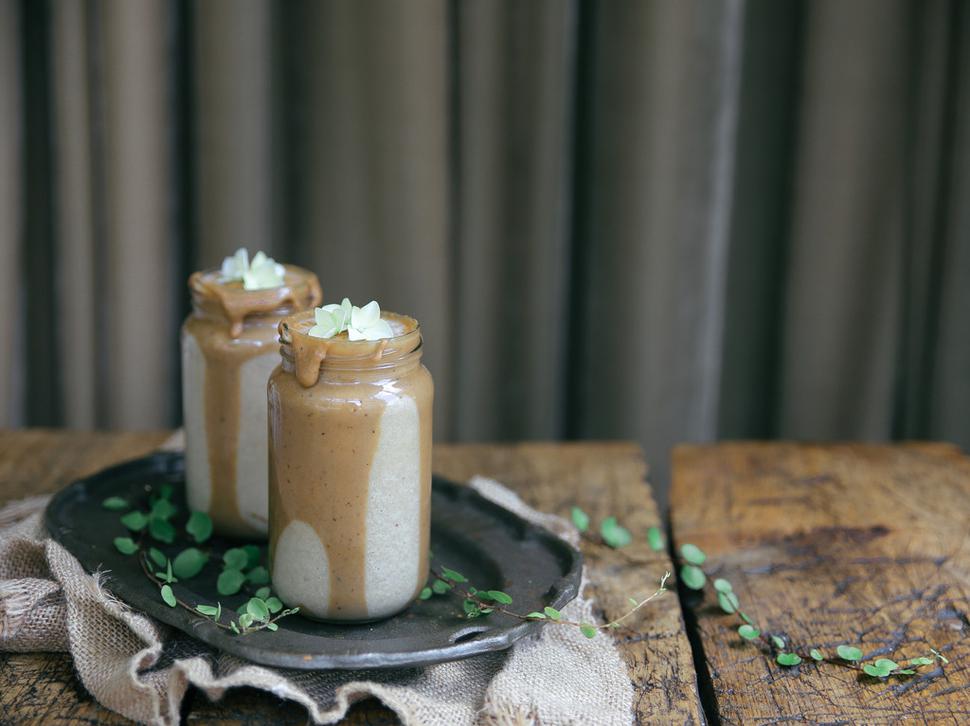 Try Petite Kitchen's apple pie-flavoured milkshake
Eleanor Ozich of Petite Kitchen shares a fancy apple pie-flavoured milkshake that's guaranteed to be devoured.
Thursday Dec. 11, 2014
Feeling a little fancy? Try this deliciously creamy spiced apple milkshake. The glasses are first drizzled with a salted date and almond butter caramel sauce for something a little bit special, then topped to the brim and sprinkled with cinnamon. My two kids like to devour theirs using a spoon. Enjoy!

CREAMY APPLE PIE MILKSHAKE WITH DATE AND ALMOND BUTTER CARAMEL SAUCE
Serves 3-4
For the smoothies:
• 2 ripe bananas
• 1 cup ice cubes
• 1 apple, roughly chopped
• 2 cups almond or coconut milk
• 1 tbsp apple cider vinegar (optional)
• 1 tbsp honey, maple or rice malt syrup
• 2 tsp pure vanilla extract
• 1 tsp cinnamon
For the caramel sauce:
• 1 cup Medjool dates, or regular dates soaked for at least 1 hour in boiling water
• ¼ cup almond butter, or nut butter of your choice
• Pinch of sea salt
• 1 cup water to blend
1. Start by preparing the caramel sauce. Add all ingredients into a blender, and blend until smooth.
2. Transfer into a small jar.
3. Add smoothie ingredients into a blender, and blend until smooth.
4. Using a tablespoon, drizzle the caramel sauce around the inside of four glasses, and then fill with the apple pie smoothie. Sprinkle with a little cinnamon if desired. Serve straight away.
Share this:
More Food & Drink / Recipes