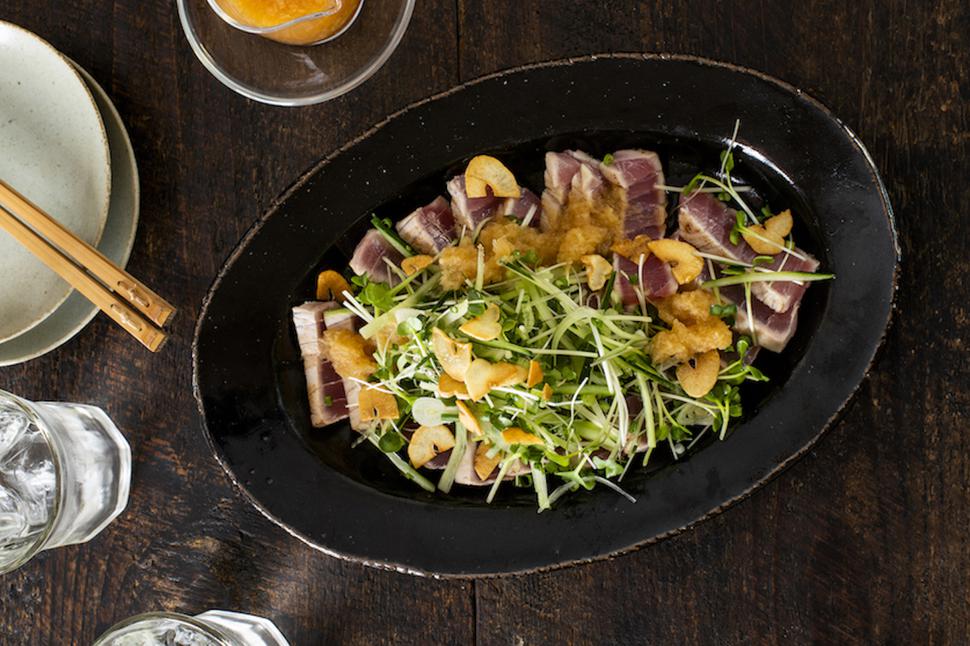 Transport Yourself To Tokyo With This Classic Tuna Tataki Recipe
Oh to be cruising the streets of Tokyo on the lookout for a late-night izakaya. Renowned chef Brendan Liew (of Minamishima, Melbourne) happily transports us to the city that never sleeps
Tuesday May 17, 2022
Beneath the train tracks, it's hard to see where the alley leads. It's so narrow that the store signs can almost touch the ones opposite, like a neon canopy of trees.
Beer crates acting as bar stools take up a quarter of the walkway, while lanterns, emblazoned with hiragana spruiking the store's wares, hang at head height to further obstruct the view ahead.
People are everywhere — salarymen, teenagers and tourists. The air is thick with the smell of smoke. You and your four colleagues have just finished a big project and are heading to an izakaya to celebrate. You spot one with space and quickly make your way there.
How many people? Five people, thanks. The matriarch of the izakaya points at ?ve seats on the opposite side of the U-shaped counter. You squeeze your way through, behind the occupied stools, issuing a sumimasen (excuse me) as you squeeze past, and take a seat.
At the other end of the bar, salarymen, easily identifiable by their dark suits and white shirts, are talking loudly, collars undone, ties hanging loosely around their necks.
They hoist their oversized beer mugs and yell kanpai (cheers!) before chugging them down, their faces more lobster-red by the second.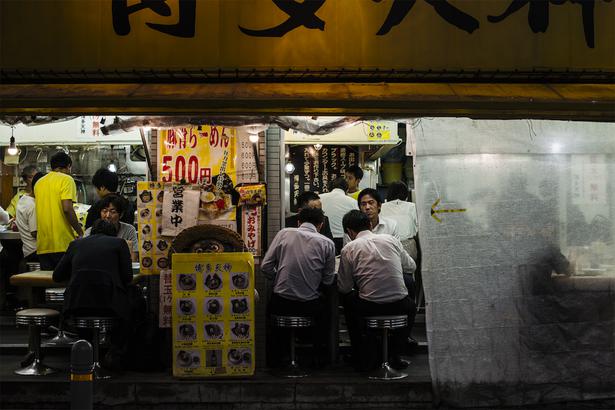 Beside them, a tourist couple look nervously at each other, trying to decipher the handwritten menu, hoping that if they use one of their few Japanese phrases — omakase (leave it to you) — they'll avoid chicken sashimi and shiokara (squid guts).
Ahead, flames shoot out of the grill as a particularly fatty piece of chicken renders golden oil onto the hot coals below. An enormous cauldron sits bubbling alongside.
Inside is a dark, rippling mass that could only be motsunabe (intestine stew) — that delectable mess of miso and long-cooked organ meat that melts in the mouth with the slightest pressure of your tongue.
Looking around at the staff, you notice there is not a wasted gesture or a moment of hesitation; everything is like clockwork. A perfectly choreographed dance. The customers are jovial with satisfied looks on their faces.
READ: The Best Japanese Recipes, From Teriyaki To Tempura
You know you made the right choice coming here. Your colleagues next to you are busy debating whether tuna tataki or yukke will make the more appropriate starter. You raise your hand to enter the conversation and say: For now, leave it to the chef!
The first izakaya were liquor stores that allowed customers to buy and consume liquor on their premises. Food offerings were later added, but the izakaya is first and foremost about the alcohol and providing food that complements and encourages drink.
Izakayas can take many forms, from tiny bolt-hole, back-alley counters run by a married couple, to massive beer halls owned by international corporations like Asahi and Suntory.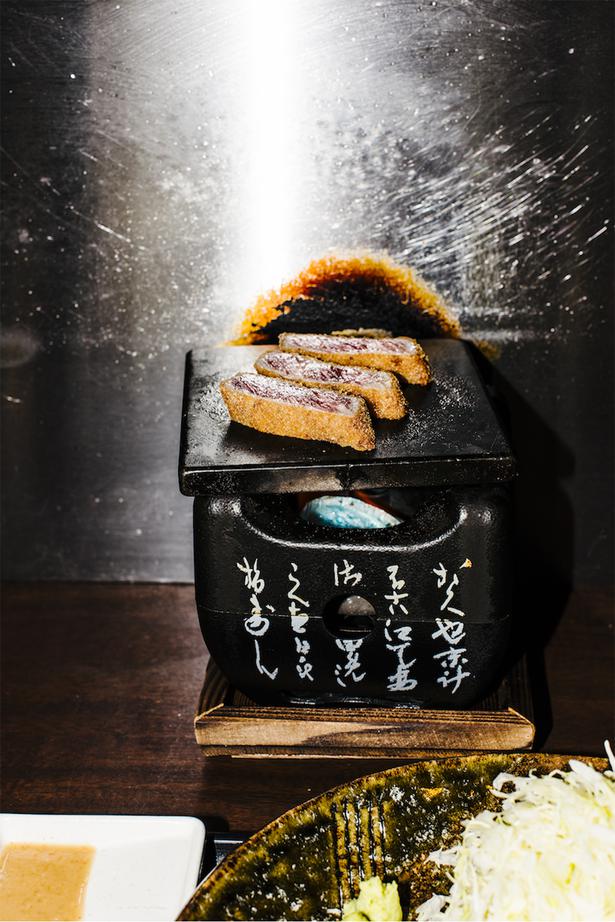 Unlike many other Japanese restaurants, izakayas are unbound by tradition. You'll find many blending Italian, French or German dishes into their menu. As long as it goes well with beer and a well-made whisky highball, it has a place on an izakaya menu.
The quick procession of small plates (otsumami/sakenosakana) is what makes izakaya dining so fun. Strong, salty flavours dominate, such as tsukune (chicken meatballs), coated in soy tare caramelised over binchotan (white charcoal), or saba no misoni — oily mackerel braised in a deep, umami-rich miso sauce.
But you can also get the cleanest-tasting, freshest sashimi, crudo or carpaccio you'll ever have the pleasure of eating (a perfect accompaniment to a junmai daiginjo sake) or an array of crisp salads and vegetable dishes (great for refreshing the palate between drinks and heavier dishes).
READ: Where To Find The Best Cheap Eats In Tokyo
When you go to an izakaya, don't be afraid to ask what the person next to you is having. There is no formality at an izakaya. The alcohol lubricates any social interaction, and though the servers and chefs may appear stern, they are easy to engage in conversation and will recommend what they're most proud of that night.
So don't be daunted if chicken sashimi or squid guts lands in front of you. Smile, pick up your chopsticks and try it. You might be delighted!
MAGURO TATAKI (TUNA TATAKI) RECIPE
Serves 2 as a starter
A classic izakaya dish, tuna tataki is also a great representation of Japanese cuisine in general — taking a fantastic ingredient at its peak and letting it shine by giving it a simple dressing that accentuates its flavour, and serving it with a small salad to add freshness and create a textural and visual contrast to the ruby-red tuna. If you can, buy some different parts of the tuna, such as the akami (red meat), chutoro (medium fatty meat) and otoro (fatty meat), to appreciate the different flavours and textures of the tuna.
300g tuna
Salt, for seasoning
125ml (½ cup) neutral-flavoured oil
3 garlic cloves, thinly sliced
1 shallot, thinly sliced
2 spring onions, thinly sliced
10cm piece of cucumber, julienned
1 bunch of micro greens, or a handful of mizuna
Dressing
1 Tbsp grated fresh daikon, strained
1 Tbsp grated fresh ginger
1 garlic clove, grated
3 Tbsp soy sauce
1½ Tbsp mirin
1 Tbsp rice vinegar
1 Tbsp sudachi or yuzu juice
1. If you have a kitchen blow torch, salt the tuna, then torch it all over. If you don't, heat a frying pan over high heat, coat the tuna in oil, then sprinkle with salt and quickly sear on all sides until each side is coloured.
2. Place the tuna in the refrigerator to cool; this makes it easier to slice.
3. While the tuna is cooling, combine all the dressing ingredients and set aside.
4. In a small saucepan, combine the oil and garlic. Heat over medium heat, stirring occasionally, until the garlic is lightly golden brown. Remove the garlic, allowing it to drain and cool on paper towel. Sprinkle with a little salt.
5. Take the tuna out of the fridge. Cut into 5 mm (¼ inch) thick slices and arrange on a serving plate.
6. Mix together the shallot, spring onion, cucumber and greens. Place?in?the centre of the plate.
7. Spoon the dressing over, sprinkle with the garlic chips and serve.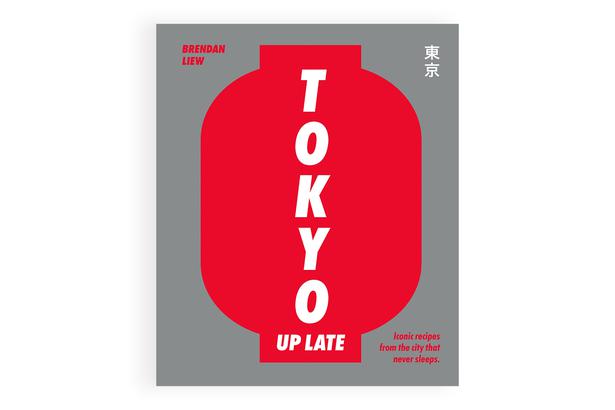 Extract from Tokyo Up Late by Brendan Liew, published by Smith Street Books, distributed by Thames & Hudson Australia, $60, available now.
Share this: