Turkish Eggs Recipe
Angela Casley's Turkish eggs are great to throw together for a late dinner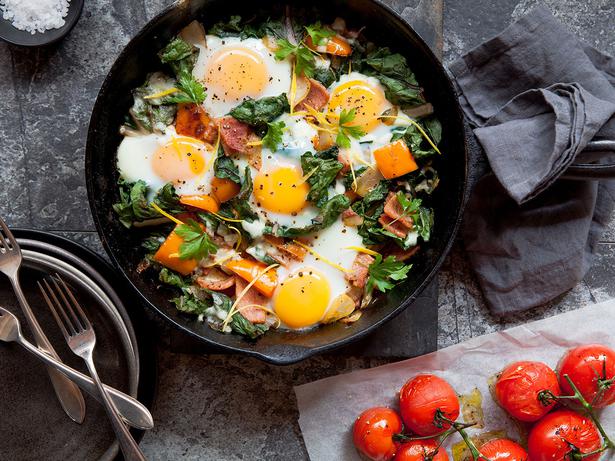 Friday Aug. 5, 2016
I threw together this Turkish eggs recipe for a late dinner after we'd all been out. It was such a hit with the troops. The ingredients were literally what was in the fridge, with the addition of a few spices, and topped with eggs. My kind of no-fuss meal. For dessert? A square or two of dark chocolate. Sometimes it is the simple things that keep us happy.

TURKISH EGGS RECIPE
Serves 4
2 Tbsp oil
1 onion, chopped
1 yellow pepper, chopped
4 rashers bacon, chopped
¼ tsp each cumin, ginger, turmeric
Pinch chilli flakes
2 cup shredded silverbeet
1 tsp grated lemon zest
5 or 6 eggs
Salt and pepper to taste
½ cup chopped parsley
Toasted bread and roasted vine tomatoes to serve
1. Preheat an oven to 180C.
2. In a heavy based pan heat the oil. Add the onion, pepper and bacon, cooking for 4 minutes until softened and slightly coloured. Add the cumin, ginger, turmeric and chilli stirring to combine.
3. Stir through the silverbeet and sprinkle over the lemon zest. Gently break the eggs on the top of the silverbeet, without breaking the yolks. Season with salt and pepper. Bake for 10 minutes or until the eggs are done to your liking.
4. Remove, sprinkle with the parsley, and serve hot with toasted bread and lightly roasted tomatoes.
Share this:
More Food & Drink / Recipes