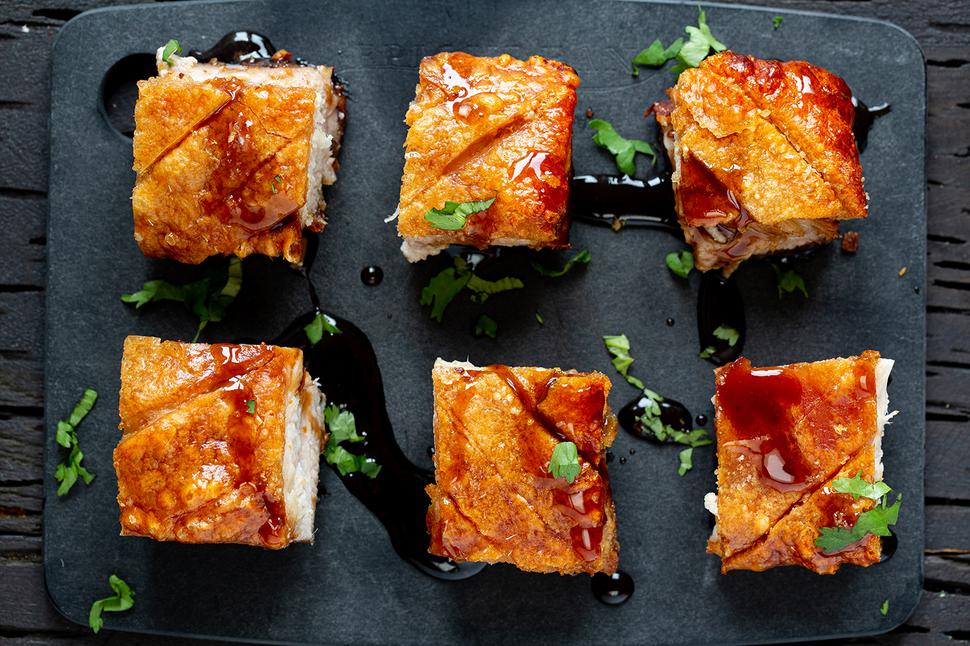 Twice-Cooked Sticky Pork Belly Recipe
These succulent bites are well worth the wait
Saturday March 27, 2021
Cooking the pork belly twice allows the fatty layer to gently melt away, leaving enough to keep the pork moist and succulent. Reheating it in a hot oven creates the crispy crackling we all love. Consider cooking an extra piece of pork, as the end result really is so delicious.
TWICE-COOKED STICKY PORK BELLY
Serves 4-6
600g piece pork belly
½ cup water
2 Tbsp oil
1 tsp salt
½ cup hoisin sauce
¼ cup soy sauce
2 tsp sesame oil
1. Preheat an oven to 180C. Line a small baking dish with baking paper.
2. Score the skin of the pork with a very sharp small knife, a centimetre apart. Place in the baking dish skin-side up with ½ cup water. Rub the top with oil and salt. Place into the oven for 30 minutes.
3. Turn the oven to 160C, cover the pork and cook for 2 hours. Remove from the oven and cool completely or overnight.
4. Combine the hoisin, soy and sesame oil in a small bowl. Smother half the mixture all over the meat, but not the skin. Place on a clean piece of baking paper, on a tray.
5. Turn the oven to 200C. Return the pork belly to the oven for 30 minutes to warm through and allow the skin to crackle. Cut into small cubes and serve with the extra sauce.
Share this: