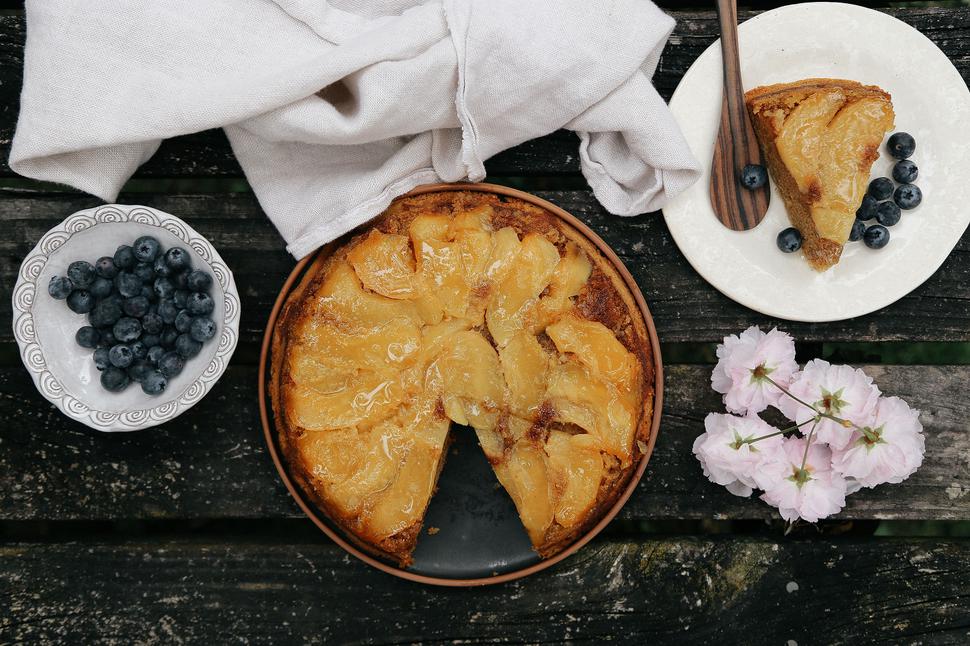 Upside Down Apple, Thyme & Almond Cake
A slice of this dreamy apple cake is the perfect way to sweeten any occasion
Thursday Nov. 29, 2018
This upside-down apple cake is beautifully perfumed with a hint of vanilla and fresh thyme, and has a soft, moist crumb from the addition of ground almonds. The recipe lends itself towards any seasonal fruit that cooks up well, for example perfectly ripe berries, peaches or plums would all be perfectly glorious. I imagine it will become a summer favourite for all kinds of occasions.
UPSIDE DOWN APPLE, THYME & ALMOND CAKE RECIPE
Serves 8 
Topping
3 Tbsp unsalted butter
3 Tbsp light muscovado sugar
2 large apples, peeled and sliced into 1cm thick wedges
Cake
200g unsalted butter, softened
1 cup light muscovado sugar
3 large free range eggs
1 1/2 cups ground almonds
3/4 cup rice flour, or flour of your choice
1 Tbsp finely sliced fresh thyme
2 tsp pure vanilla extract
1 tsp baking soda
1 tsp cinnamon
1/2 tsp nutmeg
1. Preheat your oven to 170°C and grease an ovenproof skillet.
2. Place your skillet over low heat and add the butter and sugar. Stir until you have a silky syrup, about 1-2 minutes.
3. Arrange the apple slices in a single layer on top of the syrup, covering the base of the skillet.
4. Cream the butter and sugar together using a hand mixer, until light and creamy. Add the eggs, one at a time, and continue to whisk until well incorporated.
5. Add the remaining cake ingredients, and gently fold into the mixture until smooth.
6. Tip the mixture into the skillet, and smooth out evenly using a spatula.
7. Bake for about 45 minutes, or until a skewer inserted into the middle of the cake comes out clean.
8. Allow to cool for about 10 minutes, before carefully inverting on to a cake plate. It's best to do this whilst still warm.
9. Serve with cream or natural Greek-style yoghurt. Will keep for up to 4 days stored in an airtight container.
Share this: