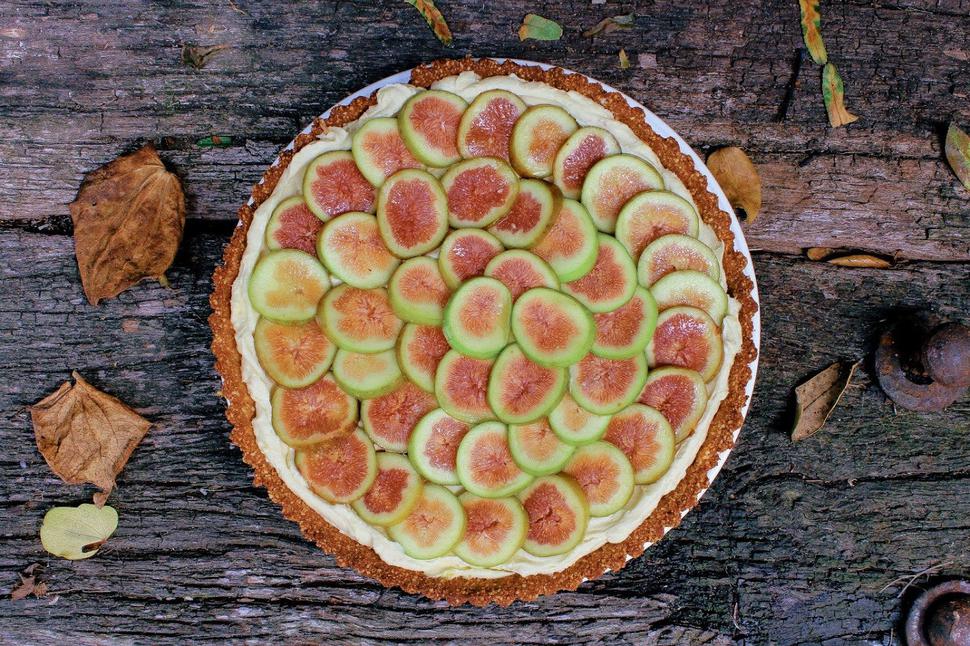 Vanilla Cream Pie With Fresh Figs
This dessert is autumn at its most delicious
Thursday April 4, 2019
A spectacular autumn dessert, this vanilla cream pie recipe is everything I dream about. The filling is a heavenly marriage of tart mascarpone, honey, lemon zest and vanilla bean, encased in a short and buttery golden almond crust. Top with fresh figs, and you have something rather fantastic to enjoy.
VANILLA CREAM PIE WITH FRESH FIGS RECIPE
Serves 8
Ingredients
Pastry:
2 ½ cups of ground almonds
3 heaped Tbsp coconut oil (or butter), melted
2 Tbsp honey, maple or rice malt syrup
1 Tbsp water
Filling:
2 cups mascarpone cheese
1 heaped Tbsp honey
Zest of 1 lemon
2 tsp vanilla extract
Topping:
8-10 fresh figs, finely sliced into rounds
Glaze:
2 Tbsp honey
1 Tbsp water
Method
1. Preheat the oven to 180C.
2. In a large bowl, combine the ground almonds, coconut oil, honey and water. Mix the ingredients until thoroughly combined. Press the dough evenly into a greased tart pan.
3. Bake for 12-15 minutes until light brown. Remove from the oven and leave to cool completely.
4. Once cooled, carefully transfer the pie crust on to a large plate.
5. In a small bowl, add the mascarpone, honey, lemon zest and vanilla. Mix until combined.
6. Spoon into the pie crust, then smooth out with the back of a spoon. Arrange the figs to cover the cream filling.
7. In a small bowl, combine the honey and boiling water. Using a pastry brush, paint the figs until lovely and glossy.
Share this:
More Food & Drink / Recipes