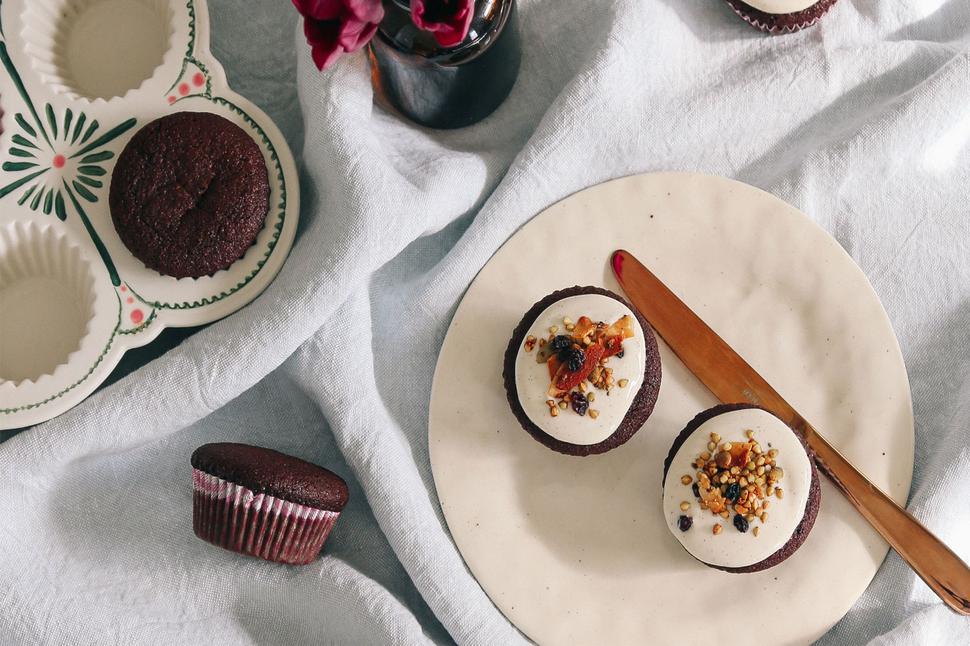 Vanilla & Prune Chocolate Muffins With Mascarpone
Adding maple mascarpone to these already decadent muffins really is the icing on the cake
Thursday July 5, 2018
These vanilla, prune and chocolate muffins are surprisingly light to eat, with a lovely character and depth of flavour. The maple-scented mascarpone adds a certain luxuriousness, although they're equally as exquisite with a simple dusting of icing sugar.
VANILLA & PRUNE CHOCOLATE MUFFINS WITH MASCARPONE RECIPE
Makes 12
Muffins
¾ cup light muscovado sugar or coconut sugar
1/3 cup melted coconut oil or unsalted butter
2 tsp pure vanilla bean paste
6 free range eggs
½ cup good-quality cocoa
1 cup ground almonds
1 cup prunes or fresh dates
1 cup rolled oats
1 tsp baking soda
Mascarpone
1 cup mascarpone
2 tsp pure vanilla bean paste
1 Tbsp pure maple syrup
Granola or toasted seeds for topping
1. Preheat oven to 160C and grease a 12 hole muffin tin, or line with muffin cases.
2. Blend the sugar, coconut oil, vanilla and eggs in a blender or food processor until smooth. Add the remaining dry ingredients and blend again until smooth and creamy.
3. Divide the batter between the prepared muffin tins. They should be about ¾ full
4. Bake for 25-30 minutes, or until a skewer comes out clean when inserted in the centre of each muffin.
5. Remove from the oven and allow to cool for 10 minutes in the tins, before carefully transferring to a cooling rack.
6. Combine the mascarpone, vanilla and maple in a small bowl and stir until well incorporated.
7. Top each muffin with a dollop of the mascarpone, then a sprinkle of granola or toasted seeds if using.
Will keep for up to two days in an airtight container.
Share this: