Vegan Coconut, Strawberry and Basil Cake Recipe
Try this unusual yet delicious recipe from The Caker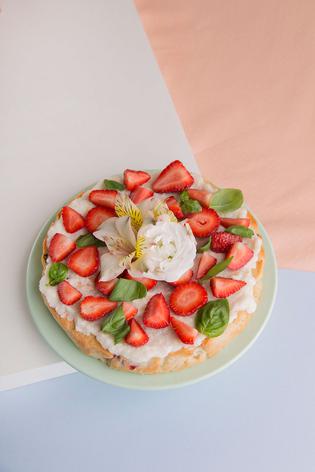 Jordan Rondel developed this recipe for her new cookbook, The Caker: Wholesome Cakes, Cookies & Desserts, and found that the basil holds its colour when baked, rather than turning brown.
VEGAN COCONUT, STRAWBERRY AND BASIL CAKE RECIPE
Serves 12

Cake
• 150g spelt flour
• 75g ground almonds
• 2 tsp baking powder
• ¼ tsp sea salt
• 75g desiccated coconut
• 100g unrefined golden caster sugar
• 1 tsp vanilla extract
• 125ml coconut oil, melted or rice bran oil
• 250ml coconut, almond or oat milk
• 20 fresh basil leaves, roughly chopped
• 200g fresh strawberries, diced
Vegan Coconut Glaze
• 125g icing sugar
• 50g desiccated coconut
• 3 Tbsp coconut, almond or oat milk
• 1 tsp lemon juice
• 1 tsp lemon zest
• pinch of salt
• ½ tsp vanilla extract
Top with:
• Handful of fresh basil leaves
• 5–6 fresh strawberries, chopped
• Fresh flowers
1. Preheat oven to 180C fan bake. Line a 22cm cake tin with baking paper.
2. In the bowl of an electric mixer, combine the flour, ground almonds, baking powder, salt, coconut and sugar.
3. Add in the vanilla, oil, milk and chopped basil leaves. Stop your electric mixer once all the ingredients are combined; do not overmix.
4. Pour the batter into the tin and dot in the diced strawberries, pressing them down lightly with a spoon.
5. Bake for approximately 40 minutes or until golden in colour, springy to the touch and a skewer inserted in the centre comes out clean.
6. Allow the cake to cool for 10 minutes before turning out onto a cooling rack. Meanwhile, make the vegan coconut glaze. Beat all ingredients together until smooth.
7. Spread the glaze on the cooled cake and refrigerate for 20 minutes to allow it to set.
8. Top with basil leaves, more strawberries and fresh flowers. Refrigerate in an airtight container for up to three days.
- The Caker: Wholesome Cakes, Cookies & Desserts by Jordan Rondel. Published by Beatnik Publishing, $49.99.
Share this:
More Food & Drink / Recipes