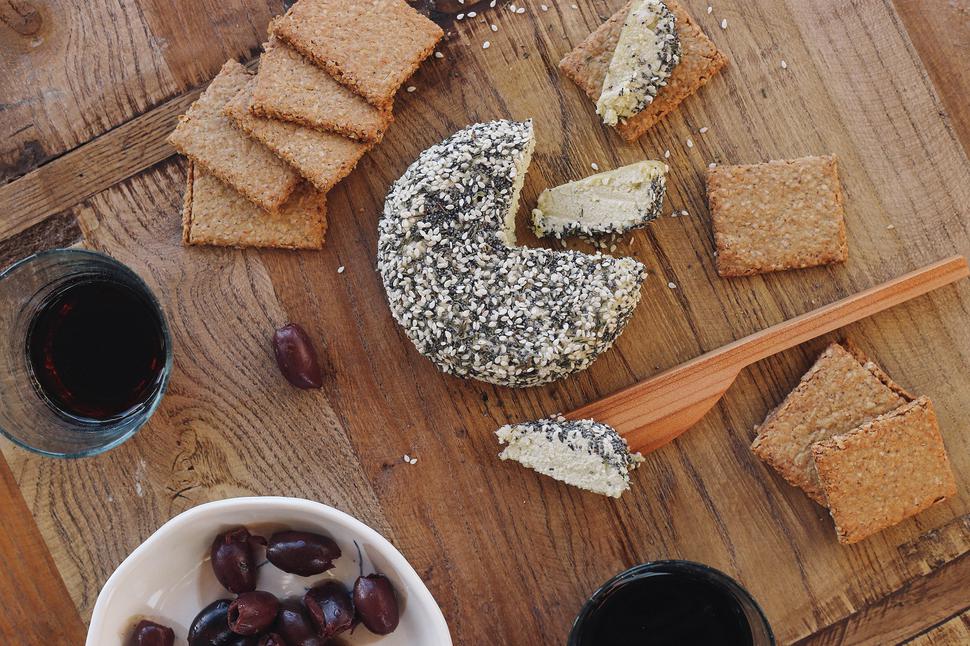 Vegan Cultured Cashew Cheese
Get creative with your next platter by whipping up Eleanor Ozich's lush dairy-free alternative
Thursday Feb. 28, 2019
You could try this vegan cheese recipe using most types of nuts or seeds, however, I recommend using cashews to begin with, as they have a creamy, mellow flavour and blend easily. The culturing time depends on how warm your kitchen is and how sharp you prefer your cheese. Use your intuition, and have fun experimenting!
VEGAN CULTURED CASHEW CHEESE RECIPE
1 ½ cups raw cashew nuts
2 probiotic capsules
1 small clove garlic
1 tsp nutritional yeast
1/4 cup extra virgin olive oil
Scant ¼ cup filtered water
1 tsp sea salt
1. Soak the cashews for at least 6 hours or overnight, then drain and rinse well.
2. Add the cashews, along with the remaining ingredients to a high powered blender or food processor, and blend until completely smooth. This can take up to 5 minutes, and you might need to scrape down the sides a few times. Add a little more water if needed, to help blend the mixture.
3. Place a sieve on top of a bowl, and line with a large piece of muslin, allowing the edges to fall over the side. Carefully pour the cashew mixture in to the sieve and gather together the corners of the cheesecloth and squeeze out as much excess liquid as possible, whilst shaping the cheese in to a flattened round about 3 cm thick. Place the cheese in a round container or shallow bowl.
4. Put the cheese in a warm place to culture for 24 hours, and then place in the fridge for a further 10-14 days to firm up and 'ripen'.
5. Once ready, the cheese should be firm to touch. Transfer to an airtight container and store in the fridge. The cheese will keep for up to 3 weeks.
6. To serve, gently roll the cheese in finely chopped herbs, nuts or spices.
Share this:
More Food & Drink / Recipes