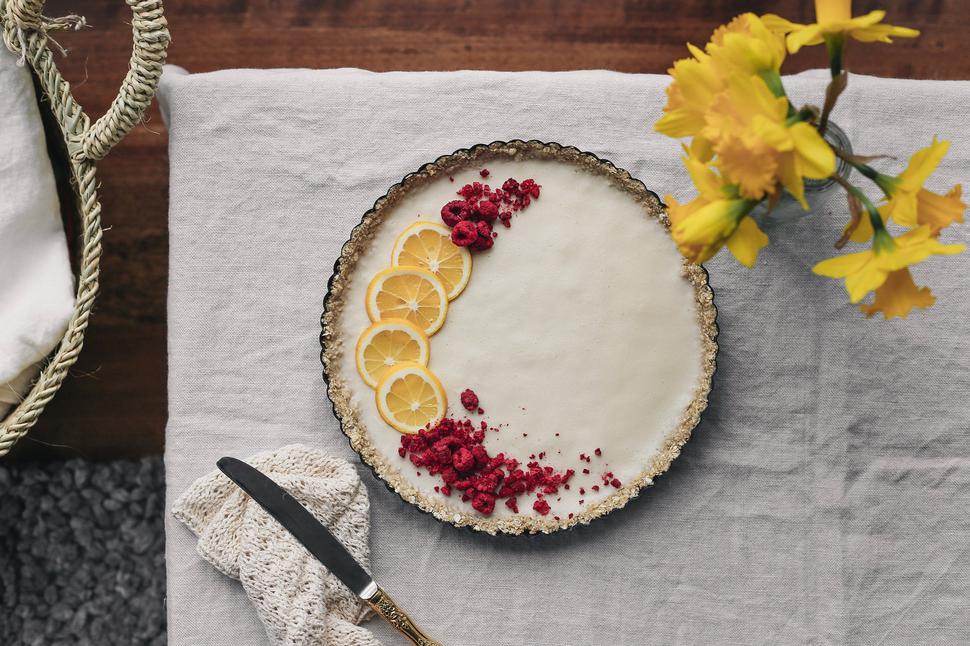 Vegan Lemon Tart With Oat Shortbread Crust
This no-bake tart is a dream for both vegans and those looking to satisfy their sweet tooth
Thursday Sept. 27, 2018
This bright and zesty citron tart is exactly what I feel like eating at this time of year. Its silky, lemony filling is lightly sweet and encased in an oat and coconut oil shortbread crust. The best part? It comes together in less than ten minutes. 
VEGAN LEMON TART WITH OAT SHORTBREAD CRUST
Serves 8
For the crust:
2 ½ cups rolled oats
5 Tbsp coconut oil, melted
3 Tbsp maple, honey or rice malt syrup
A pinch of sea salt
For the filling:
1 cup cashews, soaked for at least 2 hours then drained well
½ cup coconut cream
4 Tbsp pure maple syrup
½ cup lemon juice
½ cup coconut oil, melted
2 tsp pure vanilla extract
For topping:
Freeze dried raspberries
Slices of lemon
1. To make the crust, place all ingredients in a food processor and pulse until the mixture begins to come together.
2. Press the mixture into a greased tart tin to create a tart shell.
3. Place all filling ingredients into a blender or food processor, then blend until smooth.
4. Pour the filling into the tart tin and spread out evenly. Decorate with the freeze dried raspberries and slices of lemon if using.
5. Place in the freezer to set for at least two hours.
6. To serve, remove from the freezer and allow to soften for 10-15 minutes before slicing.
Share this:
More Food & Drink / Recipes