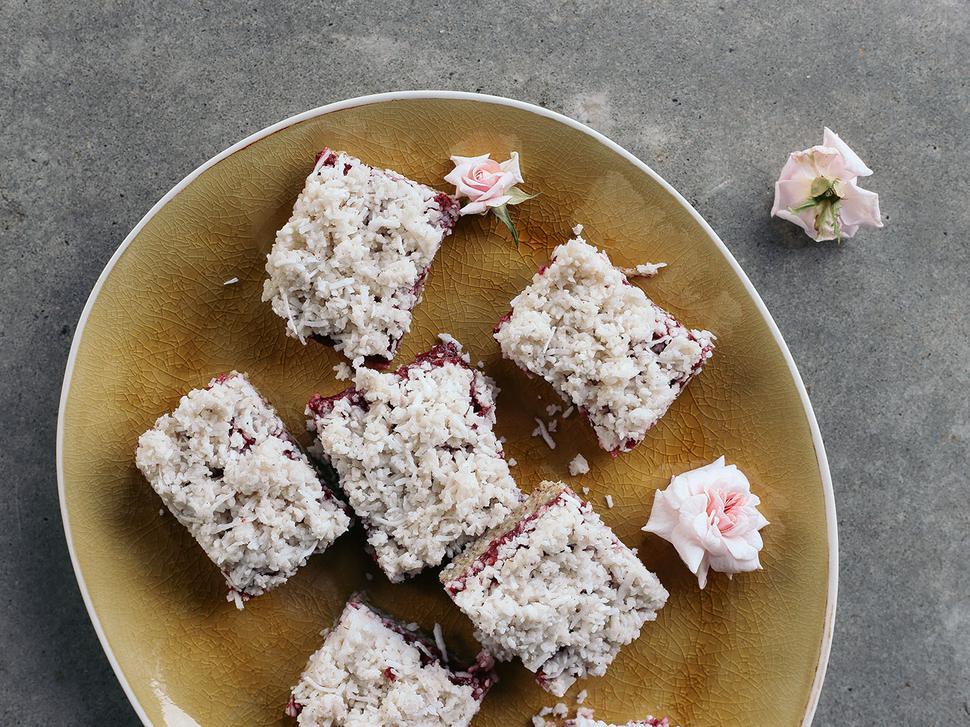 Eleanor Ozich's Vegan Louise Cake
Revive an old-fashioned Kiwi classic with this wholesome and utterly delicious version
Thursday Feb. 8, 2018
A healthier take on the old-fashioned Kiwi classic, this Louise slice is made of the kind of stuff you feel good about eating. It's sweet and nutty biscuit base is smothered with chia raspberry jam that's pleasantly tart, and not overly sweet. To deliver perfection, I've topped it with a triple coconut layer. You'll also be happy to know that it's super simple to make, and requires no baking.
VEGAN LOUISE CAKE
Makes 12 small slices
Raspberry Jam
2 cups fresh or frozen raspberries, thawed
3 Tbsp pure maple, honey or rice malt syrup
¼ cup chia seeds
The Base
1½ cups shredded coconut
1½ cups almonds, or nuts of your choice
½ cup pumpkin seeds
2 Tbsp pure maple, honey or rice malt syrup
4 Tbsp coconut oil
A pinch of sea salt
Coconut Topping
2½ cups shredded coconut
4 Tbsp coconut oil
1 Tbsp pure maple, honey or rice malt syrup
½ tsp vanilla bean powder
¼ cup coconut cream
1. Start by preparing the raspberry jam. Place the berries in a bowl, and cover with 1/4 cup boiling water. Add the chia seeds and mix well, making sure they are well incorporated into the fruit. Allow to set for at least half an hour.
2. Add the base ingredients to a food processor, and process for twenty seconds or so, until the mixture starts to come together. Press mixture evenly into a slice tin lined with baking paper.
3. Dollop the jam on top of the base, and spread out evenly.
4. Add the topping ingredients to a food processor or blender, and pulse until combined. Sprinkle evenly on top of the jam, and then pop in the freezer to set for at least 1 hour.
5. To serve, remove from the freezer and allow to thaw for 15 minutes, slice into thick pieces, and enjoy. Store in the fridge or freezer in an airtight container.
Share this:
More Food & Drink / Recipes