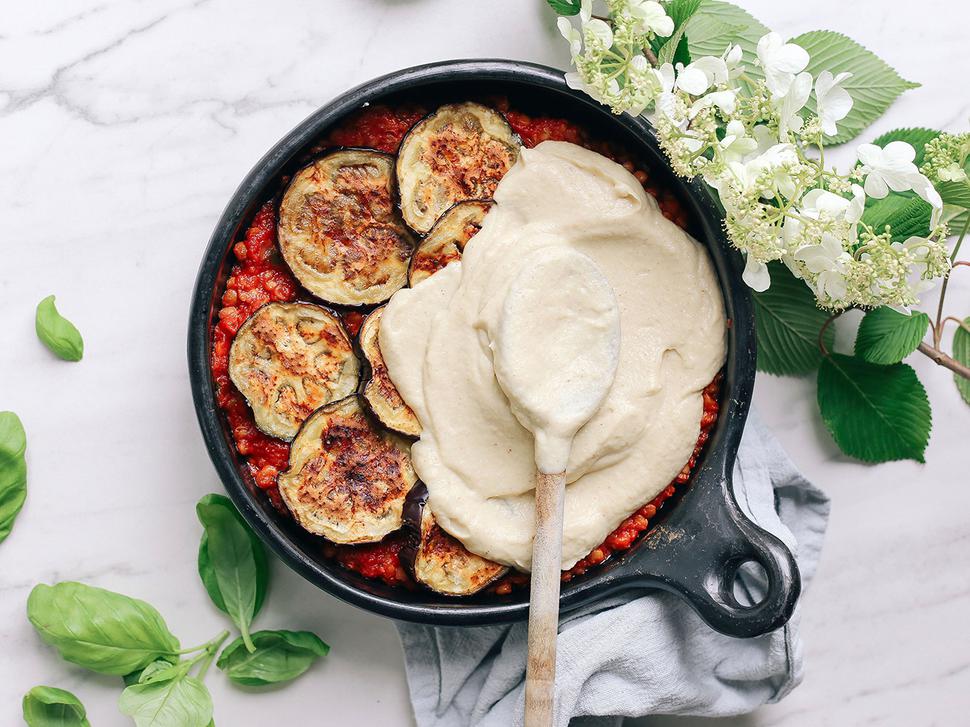 Vegan Moussaka with Creamy Cauliflower Sauce
Transform a Greek classic into a veggie delight with Eleanor Ozich's luscious eggplant moussaka
Thursday Dec. 21, 2017
If you are in possession of a few eggplants, this plant-filled moussaka is possibly one of the nicest ways to make a meal of them. I can't imagine a dish more luscious, melting and complex in flavour, and you'll be surprised to know that the creamy white sauce is made from cauliflower and cashews. The best part? It tastes even more exceptional the next day.
VEGAN MOUSSAKA WITH CREAMY CAULIFLOWER SAUCE
Serves 4 generously
Preserved Lemon Lentil Sauce
2 Tbsp olive oil
1 brown onion, roughly chopped
2 Tbsp preserved lemon, finely sliced
2 cans of lentils, drained
2 cans chopped tomatoes
Roasted Eggplant Layer
2 eggplants, sliced into 1cm rounds
Extra virgin olive oil, for drizzling

Creamy Cauliflower Sauce
½ cauliflower, cut in to florets, and cooked until tender
1 cup cashews, soaked overnight
1/3 cup extra virgin olive oil
2 tsp Dijon mustard
2 cloves of garlic
Water to blend

1. Preheat the oven to 180C, and line two trays with baking paper.

2. Lay the slices of eggplant on the baking trays, drizzle with extra virgin olive oil, and season with sea salt and ground pepper. Bake for 20–25 minutes, or until lightly golden. remove from the oven and allow to cool; leaving the oven on.

3. Warm the olive oil in a large saucepan over medium heat. Add the onion, and cook, stirring regularly, for 10 minutes, or until the onion is soft and slightly browned.

4. Add the preserved lemon, lentils and tomatoes, and bring to a gentle simmer. Cook for a further 20 minutes, or until the tomatoes are thick and pulpy. Season with sea salt and ground pepper.

5. To make the cauliflower sauce, add the cooked cauliflower, drained cashews, extra virgin olive oil, Dijon mustard and garlic to a food processor or blender. With the food processor running on low, gradually add water in a slow drizzle, until the sauce reaches a thick, silky consistency.

6. To assemble the moussaka, first add a layer roasted eggplant, then top with the lentil sauce, next add a second layer of the remaining eggplant and then top with the cauliflower sauce, and smooth out evenly.

7. Bake in the oven for 40 minutes, or until golden on top and bubbling around the edges. Allow to cool slightly before serving, and top with fresh basil, if you like.
Share this:
More Food & Drink / Recipes