Vegetable and Tofu Miso Recipe
Try this warming recipe for these chilly days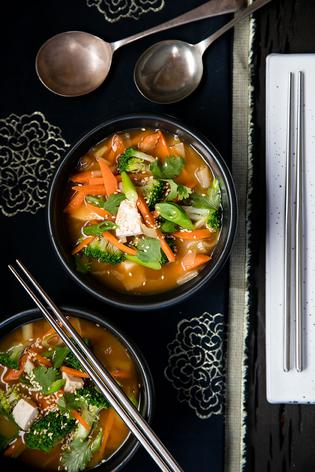 As I write this, I am sipping a bowl of hot miso, perfect for warming the cockles of the heart on a chilly day. Tofu helps to makes this simple soup a little more substantial and brings a unique texture. Fill a container with this soup and take to work for lunch, or have as an afternoon snack when you get the munchies. Your co-workers will be envious.

VEGETABLE AND TOFU MISO RECIPE
Serves 4
1 Tbsp oil
1 leek, sliced
1 Tbsp grated ginger
2 carrots, cut into thin sticks
2 garlic cloves, sliced
2 tsp sesame oil
1 litre chicken stock
½ cup miso paste
1 Tbsp soy sauce
1 head broccoli
400g firm tofu, cut into cubes
2 spring onions, sliced
½ cup chopped coriander
1. Heat the oil in a large pot. Add the leek and cook for five minutes, until softened. Add the ginger, carrots and garlic then cook for a further two minutes.
2. Add the sesame oil, stock, miso and soy and bring to a simmer for five minutes.
3. Before serving, bring the soup to a boil. Add the broccoli, tofu, and one spring onion.
4. Spoon into bowls. Serve hot, garnished with spring onions and coriander.
Share this: