Vegetable Curry Puffs Recipe
These curry puffs are tasty and easy for a crowd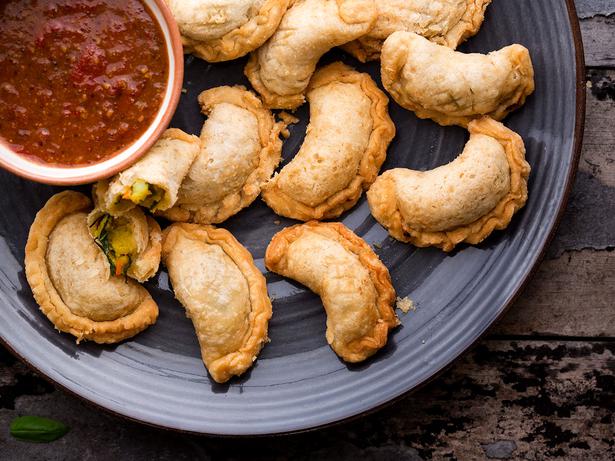 Thursday April 4, 2013
Curry puffs are a versatile snack that will be a hit at any party. Kumara, carrot and spinach is added to the spiced potato mixture, but you can get creative with the filling and use other vegetables or meat.
VEGETABLE CURRY PUFFS
Serves 20
¼ cup Oil
1 Onion, small, finely chopped
1 Carrot, grated
½ tsp Turmeric
1 tsp Chilli
2 tsp Coriander
2 tsp Cumin
1 cup Spinach, shredded
300g Potatoes, boiled and mashed roughly
150g Kumara, boiled and mashed roughly
½ cup Fresh coriander, chopped
Pastry
3 cups Plain flour
200 g Butter
2 Egg yolks
¼ cup Water
1 bottle Oil, for cooking
¼ cup Sweet chilli sauce
1. In a frying pan heat the oil, then add the onion and carrot. Cook for 4 or 5 minutes until soft.
2. Add the spices and cook for a further 3 minutes until fragrant. Stir in the spinach, potato and kumara.
3. Leave to cool, then stir through the chopped coriander.
4. Place the flour in a bowl and rub through the butter to resemble breadcrumbs. Add the egg yolks and water, then mix to form a dough.
5. Roll on a floured bench to 3mm thick and cut into 11cm circles.
6. Place 1 tablespoon of filling on to each circle, fold in half and roll the edges to seal. Refrigerate until needed.
7. Half-fill a wok or frying pan with oil. On a medium heat, fry the puffs until crisp and golden. Serve with sweet chilli.
Share this:
More Food & Drink / Recipes