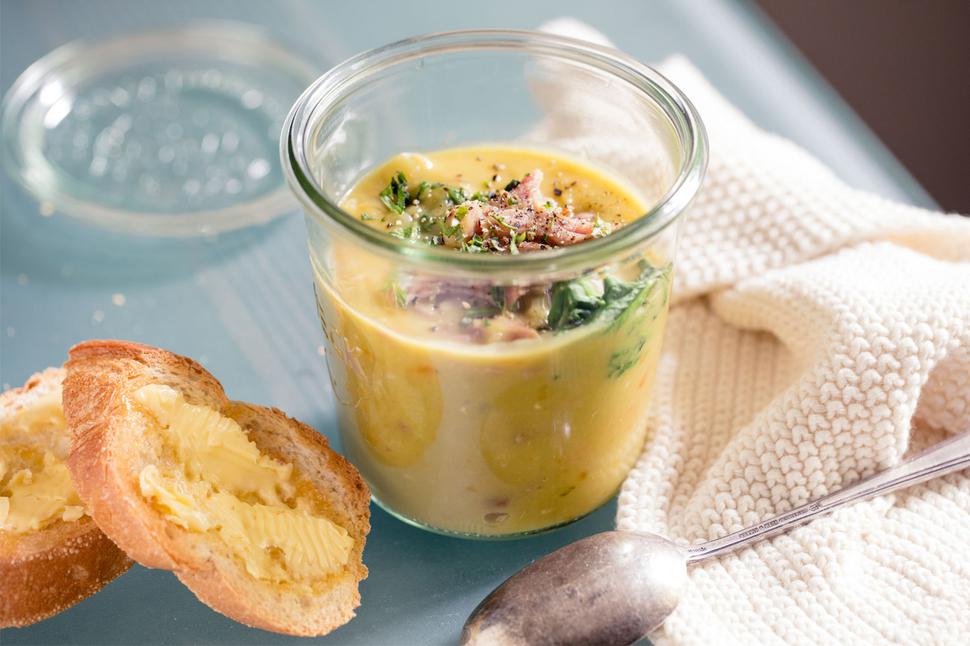 Vegetable, Pea & Ham Hock Soup
Cheap, easy comfort food is the name of the game this winter
Friday July 13, 2018
Nothing is more cost-effective or delicious as a hearty soup to eat any time of day. A slab of French stick warmed with melted butter finishes it off. If you are super organised, make some cheese scones, freeze and take one out to enjoy with this pea and ham soup recipe. 
VEGETABLE, PEA & HAM HOCK SOUP RECIPE 
Serves 6
50g butter
2 onions, chopped
1 clove garlic, crushed
2 carrots, peeled and chopped
1 stick celery, chopped
1 tsp mixed herbs
1 ham hock
1 ½ litres water
150g green split peas
300g pumpkin, peeled and cubed
Salt and freshly ground pepper to taste
1 cup chopped Italian parsley
Hot buttery bread to serve
1. In a large pot melt the butter. Soften the onion and garlic for 4 minutes. Add the carrot, celery and herbs cooking for another few minutes.
2. Add the hock, water and split peas bringing to a simmer for 1 and a half hours. Then add the pumpkin and cook for a further 30 minutes until the pumpkin is completely soft and the ham falling from the bone. Add a little extra water if needed.
3. Remove the hock on to a plate and allow to cool until you can hold it. Then remove the ham and chop into pieces. Discard the hock.
4. Puree the soup and return to the pot. Stir through the ham, reserving a little for garnish. Season with salt and pepper and stir through half the parsley.
5. Serve hot topped with extra ham and parsley, along with hot buttery bread.
Share this: