Vegetable Salad Recipe with Mozzarella and Wild Mushroom
Simple is sometimes best, with this limited ingredient salad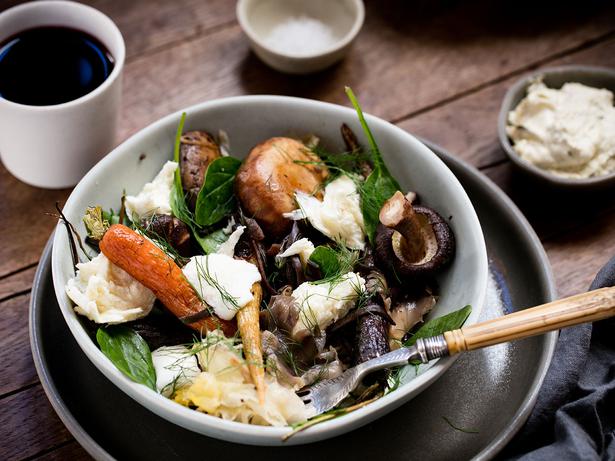 Friday June 24, 2016
At the market I picked up a chilli oil, which works perfectly with this mushroom salad as it provides a little spice to complement the subtle flavour of the mozzarella (again, from the market). Simple is sometimes the best — not too many ingredients, just the freshest you can buy. Add more roast vegetables if you like. This salad only gets better with time, so let it sit for 15 minutes — if you can wait.

VEGETABLE SALAD RECIPE WITH MOZZARELLA AND WILD MUSHROOM
Serves 4
1 Tbsp olive oil
200g baby carrots
Salt and freshly ground pepper
1 Tbsp chilli oil
2 cloves garlic, sliced
400g wild mushrooms
2 cups baby spinach
½ cup torn dill leaves
1 ball fresh mozzarella
Dressing
½ cup creme fraiche
1 tsp dijon mustard
Juice of ½ lemon
1. Preheat an oven to 180C.
2. Place the carrots in a baking dish. Toss with 1 tablespoon oil and season with salt and pepper. Bake for 15 minutes until golden.
3. Heat chilli oil in a frying pan. Add garlic and cook for 1 minute. Add mushrooms and toss to cook through, about five minutes depending on their size. Place in a bowl.
4. Add carrots, spinach, herbs and mozzarella. Season, then spoon the dressing on top or serve separately. Drizzle with a little extra chilli oil if you like it hot.
Share this: