Vegetable Tempura Recipe
Try Angela Casley's hot and crisp tempura recipe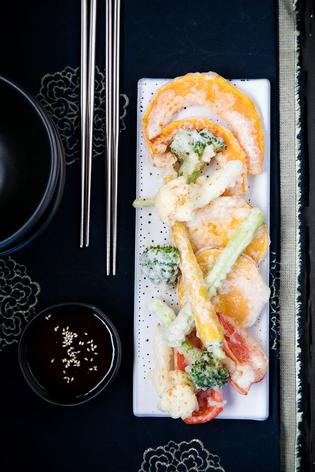 I have recently been focusing on my favourite Asian-inspired dishes and making all kinds of tempura. Prawns are a favourite, but a delicious mix of vegetables is even better. Favourites in our household include broccoli, kumara, pumpkin, beans and carrots. Tempura is best straight from the fryer while it is hot and crisp. A little dipping sauce on the side finishes it off nicely.

VEGETABLE TEMPURA RECIPE
Serves 4
Dipping sauce — combine 1 Tbsp each of brown sugar, soy sauce and lemon juice
Roughly 4 cups vegetables of your choice cut thin
Oil for deep frying
80g plain flour
2 Tbsp cornflour
½ tsp salt
200ml sparkling water
1. Combine the dipping sauce ingredients together before you start.
2. Have the vegetables cut, dry and ready for cooking.
3. Heat a deep fat fryer or heavy based pot hlaf filled with oil to 180C.
4. Five minutes before cooking your vegetables, mix the batter. Place the flour, cornflour and salt in a medium- sized bowl. Whisk in the water to form the batter. Do not over-beat, a few small lumps is fine.
5. Dip in the vegetables a few at a time. Allow the excess batter to drip off, then place straight in the oil. Cook one piece to start to ensure the oil is the correct temperature.
6. Serve hot with the dipping sauce.
Share this:
More Food & Drink / Recipes