Meaty Veggie Burger Recipe
Try this vegetarian recipe by Mathew Ramsey of PornBurger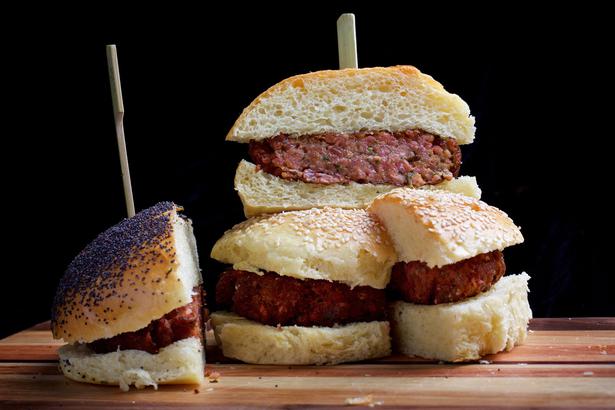 Tuesday May 31, 2016
This could be the meatiest-looking meatless burger you've ever tried. Beets lend earthiness and colour; chickpeas and wheat berries provide texture and bulk. Pan-frying gives them a nice, crisp exterior.
You'll need an instant-read thermometer for monitoring the frying oil. The uncooked mixture needs to be refrigerated for at least 30 minutes and up to overnight.
Serve with the condiments of your choice.
MEATY VEGGIE BURGER RECIPE
1 cup cooked, no-salt-added chickpeas
1 cup cooked wheat berries
1 cup peeled, shredded beets (raw or cooked)
1 large egg
3 scallions (white and green parts), coarsely chopped
1/4 cup minced cilantro
1/4 cup minced flat-leaf parsley
2 cloves garlic
Finely grated zest of 1/2 lemon
1 teaspoon ground coriander
1 teaspoon kosher salt, plus more as needed
1/2 teaspoon freshly ground black pepper
1/2 teaspoon ground cayenne pepper
1 tablespoon olive oil
1 tablespoon cornstarch
1/2 cup plain panko (dried bread crumbs)
Canola oil, for frying
Brioche buns, for serving
1. Use your clean hands to combine the chickpeas, wheat berries, beets, egg, scallions, cilantro, parsley, garlic, lemon zest, ground coriander, the teaspoon of salt and the black and cayenne peppers in a large mixing bowl. Add the olive oil, cornstarch and panko, mixing until well incorporated. (Alternatively, you can combine the ingredients in a food processor and pulse to the desired consistency.)
2. Cover and refrigerate for at least 30 minutes (and up to overnight); the mixture will be a little loose but should hold together when pressed.
3. Form the mixture into 6 patties of equal size (at your desired degree of thickness) while you heat an inch or two of the canola oil in a wide skillet over medium heat to 180 C. Line a platter with paper towels.
4. Working in batches as needed, fry the patties for 6 to 8 minutes, turning them halfway through, until crisped and browned on all sides. The centers should not be mushy. Transfer to the platter to drain; serve warm on buns.
Adapted from Ramsey's PornBurger: Hot Buns and Juicy Beefcakes (Ecco/HarperCollins, 2016).
Share this: