Venison Pies Recipe
Cooked long and slow until it is tender, this lean meat is full of flavour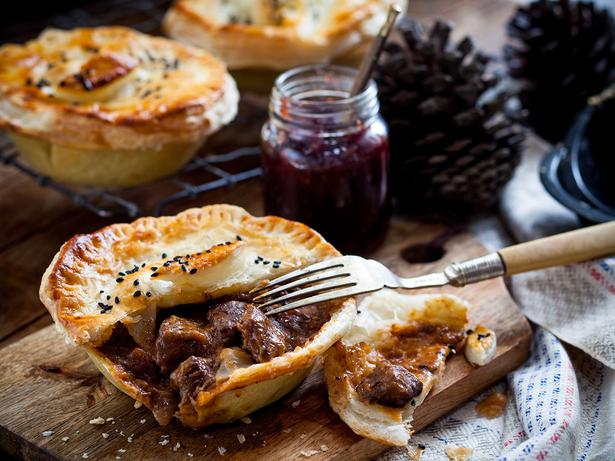 Tuesday April 5, 2016
Venison makes a pleasant change from the traditional steak pie. Cooked long and slow until it is tender, this lean meat is full of flavour. Serve with your favourite chutney or cranberry sauce if you have some left over from Christmas, and a salad or hot vegetables on the side.

VENISON PIES
Makes 4
• 2 Tbsp olive oil
• 1 onion, chopped
• 3 cloves garlic, sliced
• 1 stick celery, sliced thinly
• 1 carrot, chopped small
• 1 tsp dried thyme
• 1 Tbsp butter
• ¼ cup flour, seasoned with salt and pepper
• 800g venison leg, cubed
• 1 bottle beer
• ½ cup red wine
• 200g savoury short pastry
• 200g puff pastry
• 1 egg, mixed with ½ Tbsp water
1. Preheat an oven to 150C.
2. In a large pan heat 1 tablespoon oil. Add the onion, garlic, celery, carrot and thyme. Fry for a few minutes until softened. Place into a deep oven proof dish.
3. Place the flour in a bowl. Add venison and toss to coat. Fry the meat in the remaining oil and butter, in a couple of batches until lightly browned. Place on top of the onion mixture. Add the beer and wine. Cover and place in the oven for two hours, stirring once, until the meat is completely tender.
4. Remove the meat from the oven and cool completely.
5. Preheat the oven to 180C.
6. Line four 5cm deep x 12cm pie tins with short pastry. Spoon the filling evenly into each pie tin. Roll the puff pastry and top each pie. Press the edges together with a fork and poke a couple of holes into the top. Brush with egg wash and bake for 25 minutes until the pastry is puffed and golden.
Share this:
More Food & Drink / Recipes