Three Venison Recipes to Try
Graham Brown of Deer Industry NZ shares his recipes for three venison dishes, matched with local wines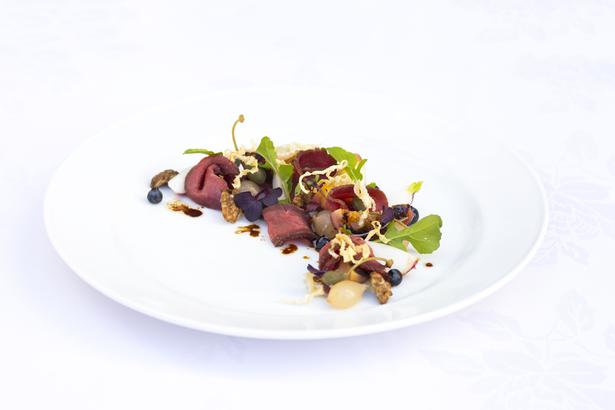 Wednesday Feb. 8, 2017
If you're a meat lover, it doesn't get much better than the pairing of a tender cut of venison with an excellent glass of red wine.
Graham Brown, Deer Industry NZ's executive chef, is an advocate of matching pinot noir with venison, as they both have "subtle gamey flavours".
Fresh from the annual Pinot Noir NZ conference which was held in Wellington at the end of last month, Graham shares his venison tips below, and three of his recipes matched with suggestions from Pegasus Bay winemaker Matthew Donaldson.
Cooking tips
• Because of its low fat content tender cuts should be cooked fast over a high heat.
• Chefs recommend serving the meat rare to medium-rare for optimum flavour and texture.
• The meat will continue to cook after it's been removed from the heat so it's best rested for at least 5 minutes.
• Farm-raised venison has a naturally deep red colour that is much darker than beef and looks rare when it is actually medium. If it looks a pink 'medium' colour, it's actually well done.
TEA-SMOKED VENISON WITH ROASTED BEETROOT, WALNUTS, GOAT'S CHEESE AND RASPBERRY VINAIGRETTE
Serves 4. Preparation time: 5 hours. Cooking time: 20 minutes.
New Zealand farm-raised venison is suited to lighter style dishes and pairs well with fruit and cheese, making this dish an ideal light lunch or dinner party starter. When recreating this recipe at home, use the salad ingredients as a guide and add in your favourite seasonal fruits, such as melon, mango, orange raspberries or blueberries. Caperberries and roasted baby onions also make tasty additions. Pair this dish with a lighter-bodied pinot noir, which has significant acidity and vibrancy, such as a Central Otago red, to complement the meal's delicious smoky notes.
INGREDIENTS
For the venison
400g New Zealand farm-raised venison roast
2 redcurrant or blackcurrant flavoured teabags, leaves removed
¾ cup flaky sea salt
2/3 cup brown sugar
½ tsp celery salt
4 Tbsp ground black pepper, crushed
For the raspberry vinaigrette
100ml walnut oil
1 Tbsp raspberry vinegar
1 shallot, finely chopped
1 tsp Dijon mustard
1 Tbsp fresh chives, finely chopped

For the salad
4 radishes, quartered
1 large bunch of baby rocket
6 roasted baby beets, skinned and quartered
A few sprigs of watercress
¼ cup fresh walnuts, lightly toasted
100g blueberries or raspberries
50g goats cheese, crumbled
To garnish
1 parsnip, thinly sliced with a peeler and slowly fried in oil until golden brown and crispy
METHOD
1. Dry the venison roast with paper towels and place in a small, shallow dish just big enough to hold it. Combine the tea leaves, salt, sugar and celery salt together, then coat the venison with this mixture. Cover the venison with cling film and fix a heavy weight on top of it. Refrigerate for 4 hours, turning frequently. Remove the venison from the brine, rinse briefly and dry with paper towels.
2. Smoke the venison on a sheltered outdoor rack, away from direct heat, using fragrant wood chips. The idea here is to smoke the venison as coolly as possible. This can also be done in a smoker or in a hooded barbecue. Smoke for between 1.5-2 hours.
3. Let the venison cool then wrap the roast in a jacket of crushed black pepper and sear for 10 seconds on a hot plate until nicely browned. Allow to cool, wrap in foil and place in the freezer for 30 minutes. Remove from the freezer and cut into very thin slices.
4. Prepare the vinaigrette by combining all the ingredients in a small bowl, then whisk.
5. Prepare the salad by combining all the ingredients in a bowl, then mix gently.
6. To serve, divide the sliced smoked venison between the plates, add a little salad to garnish, then top with the fried parsnip shavings. Finally, drizzle the vinaigrette over the dish, serve and enjoy. Wrap any leftover smoked venison tightly with cling film and refrigerate to enjoy later. The venison should last up to a week in the fridge.
Alternatively, for a speedier option this salad can be made using New Zealand farm-raised venison medallions. Simply sear the meat for 2-3 minutes each side until medium-rare, remove from heat, cover and allow to rest for 5 minutes, before thinly slicing.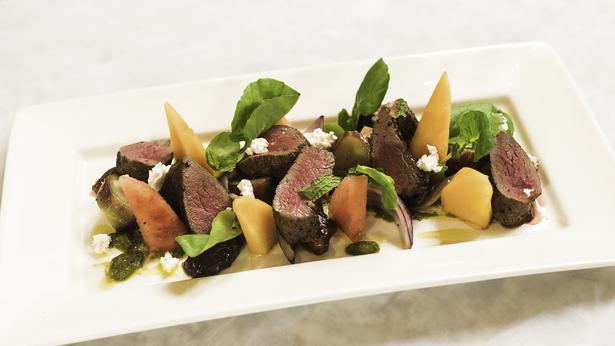 Venison medallions with orange, sumac and zhoug. Picture / Supplied
VENISON MEDALLIONS WITH ORANGE, SUMAC AND ZHOUG
Serves 4. Preparation time: 40 minutes. Cooking time: 15 minutes
Medallions, one of the most popular cuts of venison, come pre-trimmed and they are super lean. They look impressive on the plate and taste great whether you're pan-frying or grilling them on the barbecue, making them perfect for a mid-week supper all year round. For the best results, remove the meat from the refrigerator and bring it to room temperature before cooking. Zhoug is a fragrant and spicy herb sauce from Yemen and is a great condiment to have on hand. Pair this dish with a rich and full-bodied pinot noir, such as a ripe red from Martinborough or the Wairarapa Valley, to complement the aromatic notes of this meal.
INGREDIENTS
For the zhoug
Seeds from 2 cardamom pods
1 tsp black peppercorns
1 tsp cumin seeds
1 cup chopped coriander stems and roots
1 cup watercress, blanched and roughly chopped
2-3 mild green chillies, deseeded and roughly chopped
2 garlic cloves, peeled and crushed
1 tsp flaky sea salt
3 Tbsp olive oil
2 Tbsp cold water
For the venison
1 Tbsp olive oil
Finely grated zest and juice of 1 orange
½ cup flaky sea salt
Pepper
1 Tbsp sumac
1 Tbsp dried oregano
400g New Zealand farm-raised venison medallions
Olive oil for cooking
For the salad
½ a rock melon, cut into bite-sized chunks
¼ a small watermelon, cut into bite-sized chunks
10 dried dates, soaked in hot water until soft, then roughly chopped
1 Tbsp butter
2 medium-sized kumara, peeled, steamed and cut into bite-sized chunks
1 Tbsp mint leaves, roughly chopped
To garnish (optional)
Coriander
Crumbled feta cheese
Watercress
METHOD
1. Start by making the zhoug. Firstly, toast the cardamom seeds, peppercorns and cumin seeds until fragrant in a dry pan, set over medium heat. Grind to a fine powder using a spice grinder or a mortar and pestle, then set aside.
2. Put the coriander, watercress, chillies, garlic and salt in a blender. Add the spice mixture and whiz to combine. Add the olive oil and a little water, and process until the mixture is smooth and has a pouring consistency. Add more water if needed, then cover and set aside.
3. Mix together the olive oil, orange juice, zest, sea salt, pepper, sumac and oregano and then rub into the venison medallions thoroughly.
4. Heat a small amount of olive oil in a frying pan until hot then pan fry the medallions for 2-3 minutes on each side until they're medium rare. Remove from heat, cover and keep warm for 5 minutes.
5. While the venison is resting, melt the butter in a frying pan on a high heat and quickly fry the steamed kumara until golden brown.
6. To serve, cut the medallions in half and arrange on a platter. Arrange the melons, dates, kumara and mint around the meat. Drizzle over the zhoug sauce and garnish with coriander and feta and watercress (optional). Use any leftover sauce as a dip, blended with yoghurt and charred tomatoes, served with flatbread.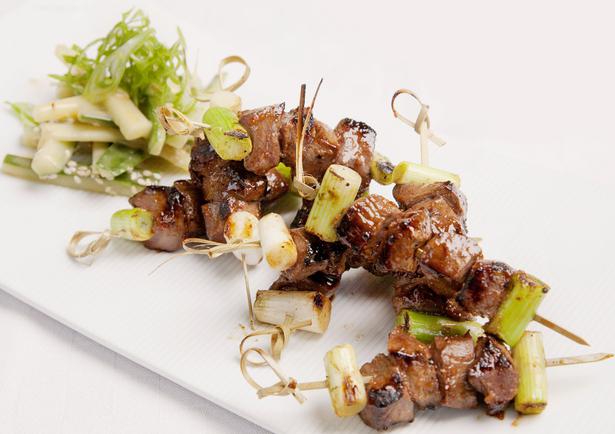 Venison yakitori with miso dressing. Picture / Supplied
VENISON YAKITORI WITH MISO DRESSING 
Serves 3-4. Preparation time: 35 minutes. Cooking time: 6 minutes
Venison leg steaks are quick-to-cook, versatile and very lean. This Japanese style recipe is an ideal dish to enjoy throughout summer and the leg steaks cook well on a barbecue or griddle. Venison yakitori are easy to make and the Japanese flavours of miso and mirin complement the meat. Pair this dish with a medium to full-bodied sweet and juicy pinot noir, such as a low acidic Marlborough red, to accentuate the texture of the lean meat.
INGREDIENTS
For the marinade
2 Tbsp soy sauce
1 Tbsp fresh ginger, grated
1 clove garlic, crushed
2 Tbsp Korean chili paste or sweet chili sauce
50ml mirin
½ tsp sesame oil
For the skewers 
2 x 220g pack of New Zealand farm-raised venison steaks, cut into bite-sized cubes
5 spring onions, cut into 1-2 cm lengths
8 shiitake or button mushrooms, quartered
8 bamboo skewers, soaked in hot water for 15 minutes
For the miso dressing
1 Tbsp miso paste
2 Tbsp mayonnaise
2 Tbsp mirin
Juice of one lemon
1 tsp soy sauce
To serve
2 cups steamed rice (optional)
METHOD
1. Combine all the marinade ingredients in a bowl and mix well. Then, thread the venison cubes onto the skewers, alternating with the vegetables. Brush with skewers with the marinade and if possible let sit for 20 minutes.
2. Barbecue or grill the skewers, turning continuously for 4-5 minutes over a moderate to high heat. Be careful not to overcook the venison.
3. Let the skewers rest for 5 minutes, in which time cook the rice (optional) and make the miso dressing by combining all ingredients and mixing until smooth.
4. Serve the skewers on top of the rice with sliced cucumber tossed with toasted sesame seeds, then drizzled with the miso dressing.
• Retail packs of New Zealand farm-raised venison are readily available in all good supermarkets throughout the country. Specialty cuts are also available online and from select butchers.
Share this:
More Food & Drink / Recipes