A Toast to the Future
One of the world's foremost Champagne houses is evolving with the times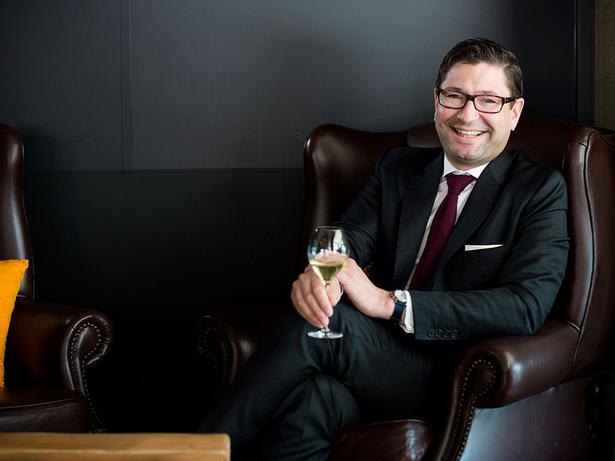 Thursday July 2, 2015
''You can drink Champagne any time, anywhere," says Veuve Clicquot's international director Laurent Boidevezi, pouring two glasses. It's 11am but I don't need convincing. New Zealanders are among the world's biggest Champagne consumers.
Veuve Clicquot exports to 142 countries and we rank 15th. We don't save it for celebrations as other, boring territories do. We don't need a birthday or an anniversary. Just a long lunch. Or a Tuesday.
Our "unbelievable" fondness for fizz brought Boidevezi to New Zealand this year for a whistlestop trip. The luxury brand sponsors the polo each year, and sales-wise (per capita), New Zealand outranks South Africa, China and some European countries.
Meanwhile, Veuve Clicquot is the number two Champagne brand here behind Moet & Chandon. Both brands are in the LVMH group Moet Hennessy, which owns vineyards all over the world, including one in Marlborough where Cloudy Bay and its sparkling wine Cloudy Bay Pelorus is produced.
"Cloudy Bay is the wine I drink at home," says the charismatic Frenchman in his charmingly thick accent. "My wife is very much into white wine. We have a bottle of sauvignon blanc always in the fridge. The chardonnay is also good."
Of course, Boidevezi is really here to talk about Champagne. Specifically, the house founded in 1772 by Madame Clicquot, a widow who took over her husband's business at the age of 27.
Now approaching its 250th anniversary, Veuve Clicquot has survived two world wars but the fallout from the global financial crisis may be its biggest challenge yet. Despite Veuve's significant growth in New Zealand last year, globally, it's now competing with the likes of prosecco, which is much less expensive. Last year, the Italian drink overtook Champagne as the world's preferred bubbly, coinciding with a decline in demand for Champagne, as consumers cut back on luxury goods.
"Ninety-five per cent of proseccos are of a very low quality, and it makes me crazy to see these surging from nowhere when we have really good sparkling wines," says Boidevezi. "I believe it's a fashion."
Veuve Clicquot is now working on building the rosé category for Champagne, and this year will launch a summery, sweeter product aimed at younger drinkers. Although he won't go into details, it's likely to be Veuve Clicquot Rich.
The non-vintage Champagne is the company's biggest investment in 15 years, recently launched in the US and Europe.
With citrus undertones, it's designed to be used in simple cocktails, paired with ingredients such as pineapple, grapefruit zest and cucumber. It's hoped the product's versatility will encourage drinkers to choose it in more casual situations.
"More and more consumers are looking to have a much less formal experience in all that they do," says Boidevezi.
"Today, it's about sharing food and experiences with friends, looking to have fun, including how they drink. All these new occasions will be critical. We often say we need to find this good balance between having the feet in the vineyard and looking at the stars."
Champagnes named "Rich" are generally sweeter, and Veuve has a fine tradition of producing vintage Rich Champagnes. But these, and the iconic Yellow Label Brut, are not a patch on their original sweetness.
The Brut has 10g of sugar per litre, whereas the original blend had more than 150g. The discovery was made when a ship that sank in 1840 was found near Finland. On board were Champagne bottles, 20 of which were from Veuve Clicquot.
"It was closer to a liqueur than a wine," says Boidevezi. "The taste of consumers has evolved, driven by the British consumers. The Brits were the first to ask for a drier Champagne, with less sugar. However, taste is evolving again for lots of reasons but one is that the younger generation has been raised with lots of sugar."
A scary thought perhaps. But it's this generation's responsibility, Boidevezi adds, not only to ensure the brand's ongoing survival but to make sure it "leaves the maison stronger than it was before". That's no small feat considering the large scale of wine produced.
Astonishingly, the flavour of the wine is entrusted to one person, the chef du cave, or cellar master. In 250 years, there have been only six, the most recent, Dominique Demarville. It's a bit like electing a pope.
"It's critical, the most important job in the company. He's really the artist. I often like to compare these people to fashion designers or artists or painters because not many people can guess how creative you need to be.
"The Clicquot blend has over 400 still wines to create the Yellow label. Imagine if you're a painter, and have 400 colours in front of you and the design has to be recognisable and very consistent."
The same goes for their brand aesthetic, which Boidevezi describes as "elegant with a twist".
"We try not to take ourselves too seriously."
And with that, he tops up our glasses.
Share this:
More Food & Drink / Wine & Drink