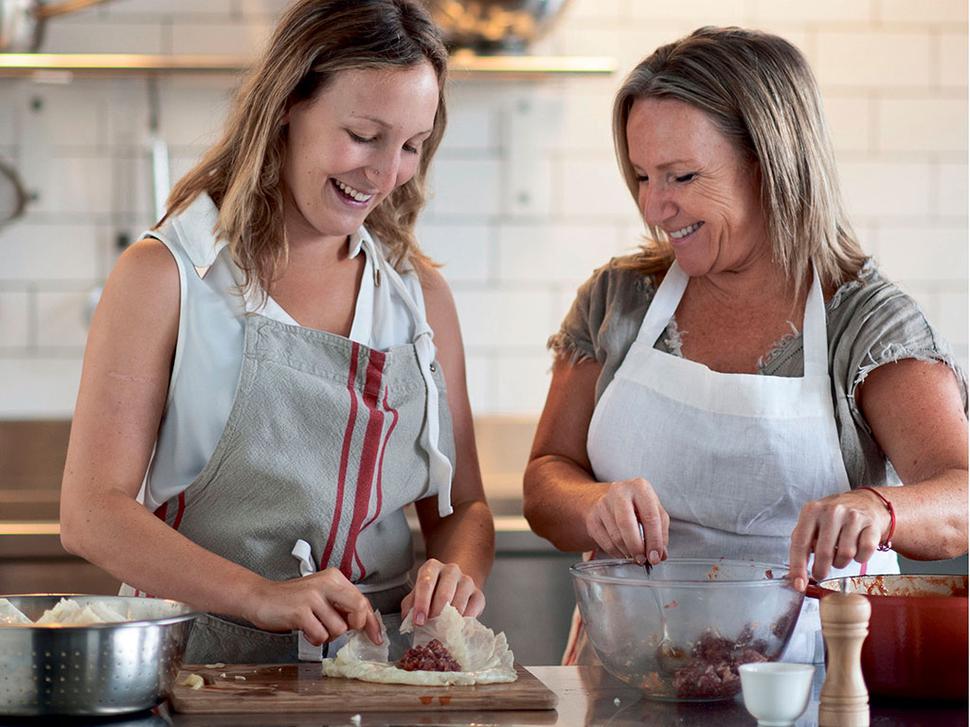 Keeping Food Traditions Alive
Members of the Monday Morning Cooking Club have recorded generations of family recipes in their books, all for a good cause
Saturday April 4, 2015
''Imagine if we could be in Borders one day." That was Lisa Goldberg's "crazy vision" for her cookbook eight years ago. Borders the bookstore is long gone, but Monday Morning Cooking Club and its sequel, The Feast Goes On, are stocked in bookstores around the world. Fans include Yotam Ottolenghi, Nigella Lawson, and Nicole Kidman. An impressive feat for a charity cookbook, but Goldberg always had her sights set high. She wanted to "produce a book that could sit in any bookstore in the world, next to the book of any chef of the world".
The Monday Morning Cooking Club books bring together recipes from Australia's Jewish community. The first book focuses on Sydney's home cooks, while the second features recipes from all over Australia. A third book is now in the works, which will also include recipes from New Zealand's Jewish community. It may be the final book in the series, Goldberg says, but there's talk of a TV show.
"The amazing reaction to our books, and the fact that they have become so many people's 'go-to' cookbooks, has made us realise that these dishes need to be in everyone's kitchen. And what better way than through TV?"
One of six members and "chief pot-stirrer" of the Monday Morning Cooking Club, Goldberg was in Auckland recently to visit friends. We caught up, fittingly, on a Monday. Her passion for the books, her clubmates and their recipes was contagious. I relished the peek into their "sisterhood"; her stories conjuring up a kitchen full of laughter, bustling bodies and delicious morsels.
Merelyn Frank Chalmers, Natanya Eskin, Lauren Fink, Paula Horwitz and Jacqui Israel are co-members. Their skill sets interweave beautifully — there are chefs, organisers, promoters and fundraisers. They meet twice a week, without fail, to cook in Goldberg's kitchen. It runs "like a well-oiled machine", Goldberg says. "Everyone knows where everything is." And they know where their strengths lie, slotting in to help one another, working on different aspects of the meal without discussion. After two hours' cooking, they sit down to eat and discuss the meal's merits — and ultimately decide whether the recipe needs a wider audience.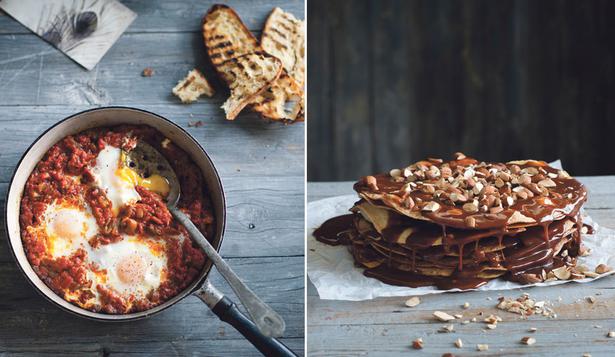 You could spend years perusing the Monday Morning Cooking Club books, and always find something new to make. There are Jewish classics (matzo balls and potato latkes) and international dishes (Tuscan bean soup, or a Swiss onion tart). And there are sweets — tarts, cakes, cookies, doughnuts and more. "We don't know what it is about Jewish people and sweet food, but for every one savoury dish we get five sweet recipes," says Goldberg.
The books provide a look into a diverse community, with each contributor's story sitting alongside their recipes, and small insights into the history of each dish. "I first tasted this kugelhopf over 30 years ago at my old friend Susie Klein's house," reads one. Another: "This slice was originally made by the famous Gerbeaud Cafe in Budapest, which Eva visited."
"We really like to focus on the people who give us the recipes, because part of what we celebrate is not just the food but the stories behind the food," Goldberg explains.
In 2006, the former lawyer was a fulltime mother, her passion for cooking a hobby. "We've all got kids and families, and we like to show our love through cooking," she explains. When basketball acquaintance Natanya Eskin approached her with the idea of a book, she immediately agreed.
They both wanted the proceeds to go to charity, and set about recruiting women with complementary skills. As the group grew to six, the Monday morning meetings became a tradition. They cooked their own family recipes, before searching for contributions from the wider community. Their goal was simple — to capture the best recipes from Australia's Jewish community, and share them with the world.
Years of testing have gone into each book — one apple strudel took three months to perfect, with variations in cup sizes over the years a problem. "Not many of the recipes work brilliantly the first time," Goldberg laughs. And many recipes never make it past the selection process. 
They don't have to be strictly Jewish ("It's all mixed up and that's what we love about it"), but need to be a family recipe — either passed down through generations, or a more recent addition. Above all, they have to be outstanding recipes, have a good story and be easy to recreate. And all six of the group have to love it.
The series has served as an anthropological project, with the women passionate about collating recipes before they are lost.
"We've taken these cooks' recipes, which were just in their homes and families, and shared them with the world," Goldberg tells me. "People think they've got a hand-written recipe from their grandmother and then their grandmother passes away, and they can't understand it. They can't recreate it, they don't understand what a handful or a teacup is, and they can never make it again. It's heartbreaking."
All the women are of Jewish descent, born in Australia or South Africa, but their roots are in places such as Poland, Hungary and Shanghai (via Russia)."We're a diverse bunch, and that's quite representative of the Jewish community across Australia."
Although they have varying levels of faith, they all agree on one thing. "It's always about the food. Food is relevant at every festival." And that includes non-Jewish traditions: "We're not so Jewish that we can't celebrate Christmas!"
Charity will always be their main focus. All sales profits are donated, and they enable charities to raise funds through events or book sales of their own. To date they have donated more than $650,000 to schools, hospitals, art galleries, women's groups and more.
"We don't necessarily want people to buy it for that reason," Goldberg says. "We want people to buy it because it's a beautiful book, and they're going to love it."

• Monday Morning Cooking Club, $49.99 and The Feast Goes On, $59.99, are published by HarperCollins. To learn more, visit mondaymorningcookingclub.com.au, and to contribute a recipe, email lisa@mondaymorningcookingclub.com.au

Get the Monday Morning Cooking Club's caramel torte recipe.
Share this: