Mother's Day Brunch: Baked Eggs
A delicious real food recipe from Real Food Pledge by Caralee Caldwell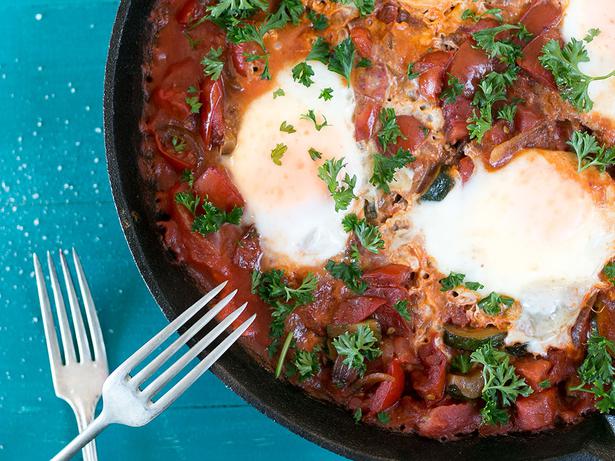 Wednesday May 6, 2015
When former serial-dieter Caralee Caldwell cut out processed foods, she recorded her journey online. Her recipes proved so popular — she has more than 43,000 Facebook followers — that she has recently released a book. Here, the New Zealand-born lawyer, who is based on the Gold Coast, shares a recipe from Real Food Pledge ($29.99, from book stores or Caralee's website.)

BAKED EGGS WITH CHORIZO, TOMATO AND ZUCCHINI
I love this dish. It is perfect to make on one of those long, lazy Sunday mornings at home. The beautiful rich flavours are warm, and the eggs and chorizo provide a hearty way to start the day.
Ingredients
Serves 2
• 4 eggs
• 1 zucchini
• 1 onion
• 3 ripe tomatoes
• ½ chorizo sausage, sliced
• 1 garlic clove, crushed
• 1 sprig fresh thyme
• Pinch of salt
• Pinch of chilli flakes (optional)
• ½ tbsp olive oil
• Fresh herbs to garnish (optional)
1. Slice the chorizo and dice the onion, zucchini, and tomatoes. In a pan over a medium heat, saute the garlic and onions in the olive oil until the onion is transparent.
2. Add the chorizo and zucchini, saute for a further three minutes. Add the tomato, thyme, salt and chilli flakes, reduce down for ten minutes, stirring on occasion. Depending on how juicy your tomatoes are, you may need to add a little water if it looks dry.
3. Crack the eggs on top of the tomato base. Place a lid on top of the pan, checking the eggs regularly. Remove from stovetop when the eggs are cooked to your liking. Serve with a sprinkle of fresh herbs, cracked sea salt and pepper.
Tip - you can use canned tomato if you don't have access to fresh tomato. Ensure that there is nothing added to the tomatoes if you use canned.
Share this:
More Food & Drink / Breakfast & Brunch