Paramount Pinot Noirs
From mature and complex to brilliantly balanced, see which pinot noirs came out on top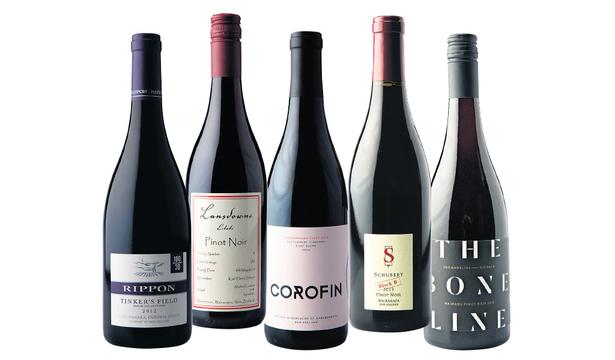 Sunday May 24, 2015
Rippon 'Tinker's Field' Mature Vine Central Otago Pinot Noir 2012 $95
Made from a small part of Rippon's Wanaka vineyard, and described by the estate's Nick Mills as being "like a focused voice of Rippon", Tinker's Field is a fragrant, high-toned pinot. Gossamer-textured, notes of spice and florals weave through its red fruited palate, supported by finespun tannin and an exhilarating line of acid and mineral. From Accent on Wine, Glengarry Victoria Park, Fine Wine Delivery Company, rippon.co.nz

Lansdowne Estate Wairarapa Pinot Noir 2010 $50
This beautifully scented and complex mature pinot noir beat all international contenders to take home the International Wine & Spirit Competition's top pinot poir trophy. This was the first time I'd tried or in fact heard of this tiny estate, whose vineyards are likely on the site of one of the country's earliest pinot noir plantings from the 1800s. It's silky textured, with strawberry fruit joined by notes of forest floor, spice, dried meats, herb and violet florals. From Fine Wine Delivery Company, lansdownewine.co.nz

Corofin Settlement Vineyard East Slope Marlborough Pinot Noir 2013 $45
Corofin is the promising new venture of Mike Paterson (formerly winemaker at Jackson Estate), who is working with selected Marlborough vineyards to produce a small but growing selection of single site wines. My favourite hails from a section of Dog Point's Omaka Valley Settlement Vineyard; a fresh, focused and fine pinot, with delicate red cherry fruit, notes of fragrant spice, mineral and a hint of game. From Great Little Vineyards, Fine Wine Delivery Company, Hamilton Wine Company, Cambridge Wines & Spirits.

Schubert Block B Wairarapa Pinot Noir 2013 $72-79
This brilliantly balanced and refined Wairarapa pinot has been one of my highest ranked wines in two recent blind tastings. It's a highly perfumed example, with fresh and silky raspberry and red berry fruit laced with sweet spices, florals and mineral and a gentle savoury undercurrent. From Fine Wine Delivery Company, Caro's, Wine Circle, The Village Winery.

The Boneline 'Waimanu' Waipara Pinot Noir 2013 $35
From the recently reinvented and rebranded Waipara West, comes this fragrant, pure and brightly fruited pinot noir from a long established vineyard. Fresh and silky, its palate of juicy redcurrant fruit has a pretty floral dimension and lacy tannins, while its new label now looks as striking as the wine in the bottle. From Caro's.
Share this:
More Food & Drink / Wine & Drink