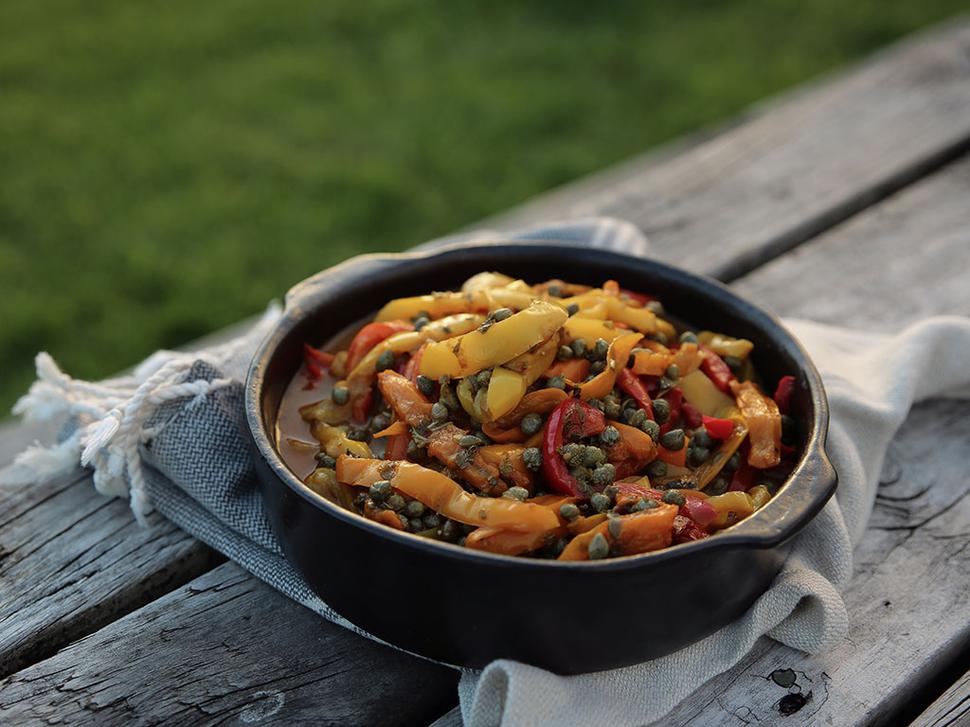 Petite Kitchen's Peperonata with Balsamic and Mint
This recipe from Eleanor Ozich is simple yet full of rich flavours
Thursday May 21, 2015
Today I share with you my variation of the classic Sicilian peperonata, a sweet and simple stew of red peppers, balsamic vinegar, mint and capers. Perfectly tender and full of rich flavours, this dish is vibrant and delicious. I like to serve it with grilled chicken or piled on top of a thick piece of sourdough. Enjoy!

PEPERONATA WITH BALSAMIC AND MINT
Serves 4 as a side 
• Extra virgin olive oil, for pan-frying
• 4 red peppers/capsicums, sliced into 1cm thick strips
• ¼ cup balsamic vinegar
• A large handful of mint leaves, roughly chopped
• A large handful of basil leaves, roughly chopped
• ¼ cup capers, drained
1. Add enough olive oil to a cast-iron saucepan or large heavy-based frying pan to cover the bottom. Warm oil over medium heat.
2. Add sliced peppers, and stir to coat in the oil. Cover pan, then reduce heat to very low. Cook for 20–25 minutes, stirring every now and then, until peppers soften.
3. Remove from heat and add balsamic vinegar, mint, basil and capers. Season with a good pinch of sea salt and freshly ground black pepper.
4. Stir until combined, then serve.
5. will keep for 3-4 days in an airtight container in the fridge.
• For more from Eleanor Ozich see petite-kitchen.com
Share this:
More Food & Drink / Dinner