The 10 Best Wines
The pick of the crop were chosen purely for their quality and individuality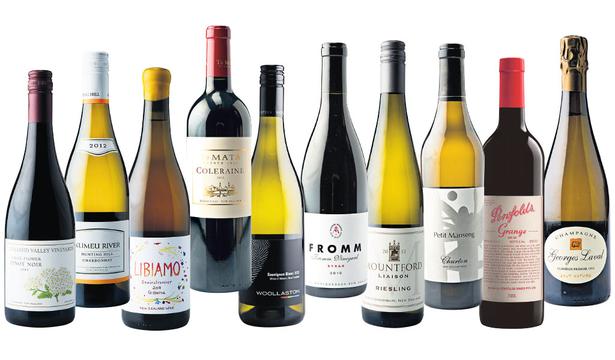 Tuesday May 26, 2015
Pyramid Valley Vineyards 'Angel Flower' Canterbury Pinot Noir 2012 $120
Mike and Claudia Weersing have been making some of the country's most compelling wines from their very special North Canterbury site. The 2012 vintage is another step up, with the Angel Flower pinot noir from its north-facing clay-limestone slope the top pinot I've tried in the past year. It's a delicate, beautifully perfumed wine, redolent of rosehips, rose and herbs, with a gossamer-textured palate of red cherries, plums and a subtle, savoury, gamey undercurrent, supported by a silky acidity and fine-grained tannins. From Great Little Vineyards, Fine Wine Delivery Company.

Kumeu River 'Hunting Hill' Kumeu Chardonnay 2012 $50
Another appearance for this single vineyard chardonnay in Viva's top 10, the 2012 Hunting Hill is a poised wine that combines restraint and intensity. From a slope overlooking the estate's Mate's Vineyard, Hunting Hill's fruit once all went into the Estate Chardonnay, but was singled out from 2006 to produce its own impressive wine. This most recent vintage, which has proved so popular it's almost sold out, is pure and taut, with layers of citrus fruit, white flowers, herbs, flint, smoke and nuts. From The Village Winery.

Millton 'Libiamo' Gisborne Gewurztraminer 2014 $45
Wow — what a knockout wine! It's gewurztraminer, but not as we've known it, this one being orange-hued and ultra-aromatic from spending 78 days with its skins. It's dry and richly textured, exhibiting a veritable bouquet of floral fragrances: from rose and carnation to white flowers and greenery. These are joined by notes of savoury Moroccan spices, Earl Grey tea and mineral, finishing with a grip of grapefruit zest. The first ever Libiamo from 2013 was launched in Australia a couple of months back, but sold out almost immediately.
Thankfully, the 2014 has come hot on its heels and is even more ambrosial. One of the best of a growing group of local orange wines to date. From Glengarry, Village Wines, Wine Circle, Waiheke Wine Centre, millton.co.nz.

Te Mata Estate 'Coleraine' Hawke's Bay 2013 $99
Te Mata Estate's flagship cabernet sauvignon, merlot, cabernet franc blend has set a new benchmark with its 2013 release. According to John Buck from the historic estate, a stellar vintage in Hawkes Bay, fine-tuning the winemaking and greater vine age, makes him consider this release to be its "finest achievement to date". I agree. There's great concentration and elegance to its fresh blackcurrant fruit, that's joined by licorice, herb, stony and savoury notes. These are underpinned by firm but ripe satiny tannins, which should keep this harmonious wine in fine form for decades. From fine wine stores.

Woollaston 'Mahana' Nelson Sauvignon Blanc 2013 $25
One of the most interesting sauvignons of the year, 75 per cent of the 2013 release from Woollaston's top Mahana range was fermented with its skins and 90 per cent in acacia barrels. This is a somewhat radical departure from the winemaking that's been conventionally applied to sauvignon, but has resulted in a complex example with a lovely intensity to its chalky textured palate in which subtle nuances of herb, green fruit and fresh lime are wrapped round a flinty mineral core. From Fine Wine Delivery Company, Hamilton Wine Company, Farro Fresh.

Fromm 'Fromm Vineyard' Marlborough Syrah 2010 $62
While most of the wines in the Top 50 are youthful new releases, it's nice to be able to recommend a wine that's available with some maturity, such as this sensational syrah. I enjoyed it when I first tried it last year, and liked it even more after tasting it again last month in a blind line-up. Including 4 per cent viognier, it's a wonderfully fragrant and fresh expression, with notes of rose incense, blossom and exotic spices threading its concentrated, silken and seamless red plum palate. Fromm's syrahs have a history of ageing well and, with its firm spine of tannins, this still has many great years ahead of it. From Fine Wine Delivery Company, Point Wines, Waiheke Wine Centre, First Glass.

Mountford 'Liaison' Waipara Riesling 2013 $28.95
Only just released, this is the first riesling for Mountford's Liaison label and is a beguiling debut. Made in a medium sweet late harvest style, it's rich and opulent, with peach fruit, hints of blossom and honey, driven by a fabulously fresh line of citrus and mineral that leads to a very long finish. While Liaison is Waipara estate's second label, it's still 100 per cent estate grown and produced in small volumes. From Fine Wine Delivery Company, Village Winery.

Churton Marlborough Petit Manseng 2013 (500ml) $49
Churton released New Zealand's first ever petit manseng from the 2012 vintage and the follow-up is even more delicious. This southern French variety is particularly suited to sweet wine production, which is the style Churton is making. This complex Marlborough expression exudes aromas of spice, herbs and honey which, on the palate, are joined by white peach fruit, toasty notes and a subtle savoury undercurrent, with its sweetness cut by crisp citrus. Contact mandy@churton-wines.co.nz to buy.

Penfolds 'Grange', Australia 2010 $835
This is the 60th consecutive release of Australia's most iconic wine, with the latest Grange also hailing from the much celebrated 2010 vintage. It's the finest example I've tried as young wine, displaying immense concentration in its palate of brooding black plum and berry fruit infused with notes of fragrant spice, cocoa and licorice supported by a powerful frame of bright acid and firm but fine tannins. From fine wine retailers including Glengarry.

Georges Laval 'Cumieres' Brut Nature Champagne NV $115
Though the big houses dominate Champagne sales, there's a buzz being generated by a number of the region's smaller growers that belie their diminutive proportions. Georges Laval is one of these, a tiny cult label and organic Champagne pioneer, that's just started to be imported into New Zealand. Its Cumieres Brut Nature is an ultra-dry chardonnay-dominant wine, which unfurls to reveal crisp green apple fruit threaded with smoke and flint and finishes with a fabulously fresh yeasty briny tang. From Fine Wine Delivery Company, Caro's, The Village Winery.
Share this:
More Food & Drink / Wine & Drink