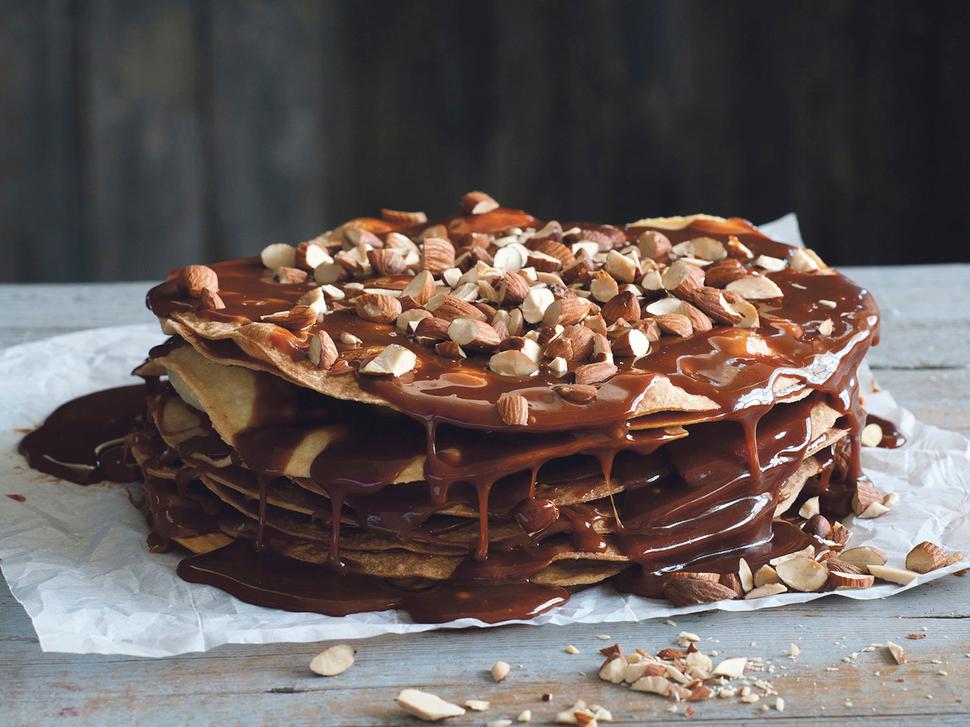 Recipe: Caramel Torte
We share a decadent recipe from the Monday Morning Cooking Club
Wednesday April 1, 2015
The Monday Morning Cooking Club have recorded generations of family recipes in their charitable cookbooks. Monday Morning Cooking Club focuses on Sydney's Jewish community, while The Feast Goes On features recipes from all over Australia. Here, we share Shereen Aaron's grandmother's caramel torte recipe.
"My grandmother was a typical doting Yiddishe nanna, and this was one of her most memorable cakes, all of which (as she always said) had to have ta'am (the right taste). This recipe was a closely guarded secret but the time has now come to share it with the world. The caramel recipe can be doubled for a more luscious effect."

CARAMEL TORTE
Serves 10
This recipe is best made the day before serving
• 2 ¼ cups plain flour
• 2 Tbsp caster sugar
• 115g unsalted butter, at room temperature
• 125ml pure cream (35 per cent fat)
• 1 egg, lightly beaten
• ¼ cup toasted or sugared almonds, for garnish
Caramel Sauce
• 1 1/3 cups sugar
• 200ml milk
• ¼ tsp baking soda
• 125g butter
• ½ tsp vanilla extract

1. Preheat the oven to 170C (325F/Gas 3). Line three or four large baking trays.
2. Put the flour and sugar into a large bowl. Using your fingertips, rub in the butter until it resembles coarse crumbs.
3. In a separate bowl, whip the cream until slightly thickened and stir in the egg. Add this to the flour mixture and combine until it just comes together as a dough.
4. Divide the dough into nine pieces. On a lightly floured surface roll out, one piece at a time, to a thickness of 1–2mm. Using a 24cm circle as a guide (the base of a springform cake tin works well) cut a circle from the dough. Lift carefully and place on a prepared tray. Continue until nine circles have been rolled, cut out and placed on the trays.
5. Place in the oven and bake until golden brown, about 20–30 minutes. Check regularly as different shelves of the oven may cook at different temperatures.
6. To make the caramel sauce, melt the sugar in a saucepan over medium heat until all the grains are dissolved and it is a golden brown caramel. Do not stir or move it around, and watch it carefully. Warm the milk a little, stir in the baking soda, then slowly pour the milk into the caramel a little at a time, stirring constantly. Don't worry if the mixture seizes, it will melt again. Bring to the boil over low heat until slightly thickened.
7. Add the butter and vanilla and stir until combined and thick. Remove from the heat and allow to cool slightly until thick enough to spoon onto the pastry layers.
8. To assemble, place a drop of the sauce on a cake plate and cover with the first disc of pastry. Spoon 2 dessertspoons of caramel over the disc and spread thinly from edge to edge. Top with the next disc and a layer of caramel and continue until all the discs and caramel are used, making sure you keep enough caramel for the top. Spread the remaining caramel over the top disc and garnish with the nuts. Leave the torte to sit, covered, at least overnight before serving.

• Extracted from The Feast Goes On by Monday Morning Cooking Club. $59.99, published by HarperCollins. To learn more visit visit mondaymorningcookingclub.com.au, and to contribute a recipe, email lisa@mondaymorningcookingclub.com.au. Read our interview with Monday Morning cooking Club co-founder Lisa Goldberg here.
Share this:
More Food & Drink / Desserts