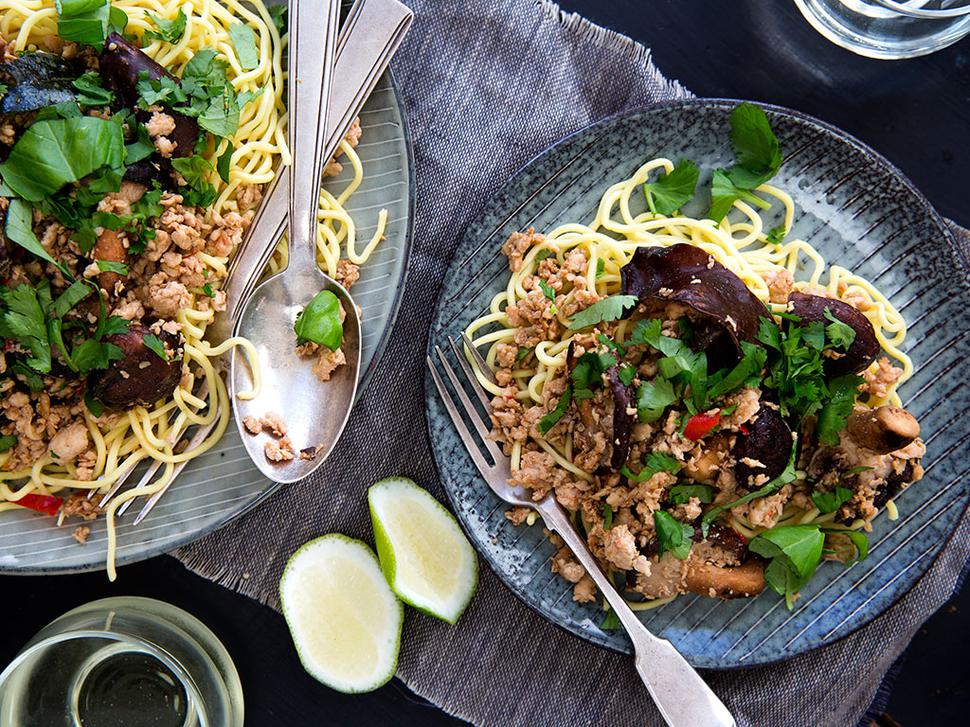 Recipe: Chicken and Mushroom Larb on Noodles
This traditional Laos dish is packed with flavour
Thursday May 28, 2015
CHICKEN AND MUSHROOM LARB ON NOODLE
Serves 4
• 2 Tbsp oil
• 1 tsp sesame oil
• 500g chicken mince
• 2 spring onions, sliced
• 2 Tbsp grated ginger
• 1 chilli, sliced finely
• 1 clove garlic, chopped
• 2 kaffir lime leaves
• 200g shitake or mixed mushrooms, quartered
• ¼ cup oyster sauce
• ¼ cup soy sauce
• 1 tsp fish sauce
• ¼ cup water
• 400g noodles, cooked to packet instructions
• ½ cup coriander leaves
1. Heat oils in a frying pan. Add mince and cook until lightly browned.
2. Add spring onions, ginger, chilli, garlic, lime leaves and mushrooms, cooking for a further 3 or 4 minutes until mushrooms have softened. Stir through oyster, soy, and fish sauces and water. Cook until sauce has thickened slightly.
3. Serve on noodles, with coriander.
Share this:
More Food & Drink / Dinner