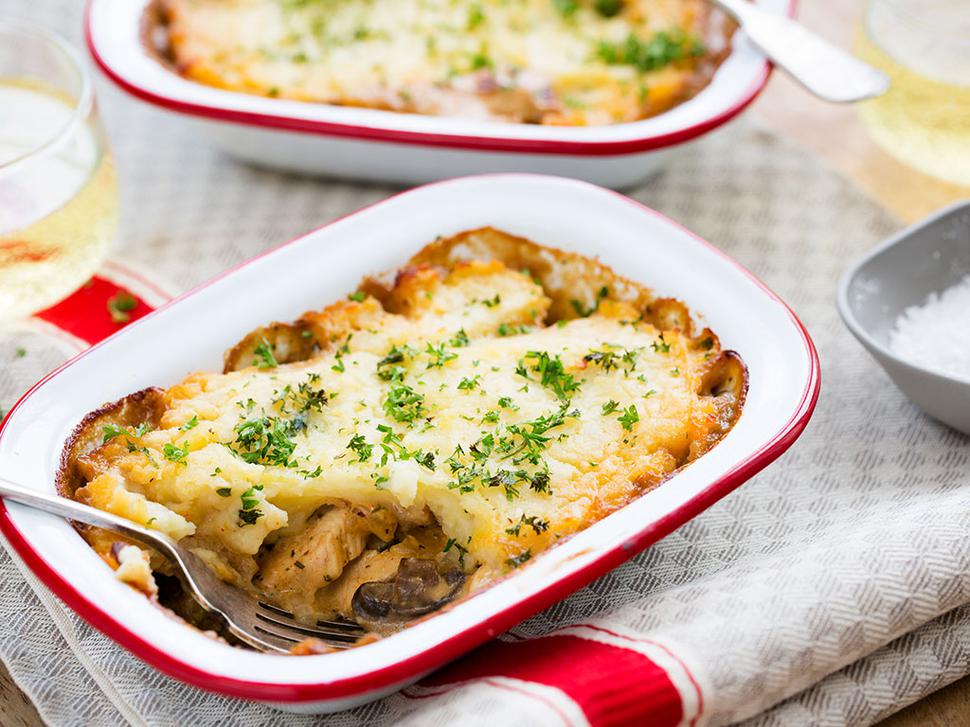 Recipe: Chicken and Mushroom Pie
Everyone loves a good chicken pie, and this one is even pastry free!
Tuesday May 5, 2015
CHICKEN AND MUSHROOM PIE
Serves 4
Topping
• 2 cups potatoes, peeled and cubed
• 2 cups kumara, peeled and cubed
• 2 Tbsp butter
• ½ cup milk
Filling
• 2 Tbsp oil
• 600g chicken breast, cut into cubes
• 1 onion, chopped finely
• 2 cloves garlic, crushed
• 200g mushroom, sliced
• 1½ cups full cream milk
• 1 bay leaf
• 2 Tbsp chopped parsley
• 1 Tbsp capers, chopped
• 1 tsp paprika
• 1 tsp mustard
• 1½ Tbsp cornflour mixed in 2 Tbsp cold water
• 1 Tbsp chopped parsley to garnish
1. Place potatoes and kumara ina pot of salted water. Cover and cook until soft. Mash, adding the butter and milk, until smooth.
2. Heat 1 tablespoon of oil in a pan and fry the chicken until cooked through.
3. Heat remaining oil. Add onion and garlic, cooking for 2 minutes until soft. Add mushrooms and cook for 5 minutes until soft.
4. To mushroom mix add milk, bay leaf, parsley, capers, paprika and mustard. Simmer for 5 minutes. Add the cornflour and stir until thick. Stir through the cooked chicken.
5. Preheat oven to 180C.
6. Spoon the mixture into four individual dishes or one family size oven proof dish. Top with potato mix. Sprinkle a little extra parsley on top. Bake for 20 minutes until hot and golden brown.
Share this:
More Food & Drink / Dinner