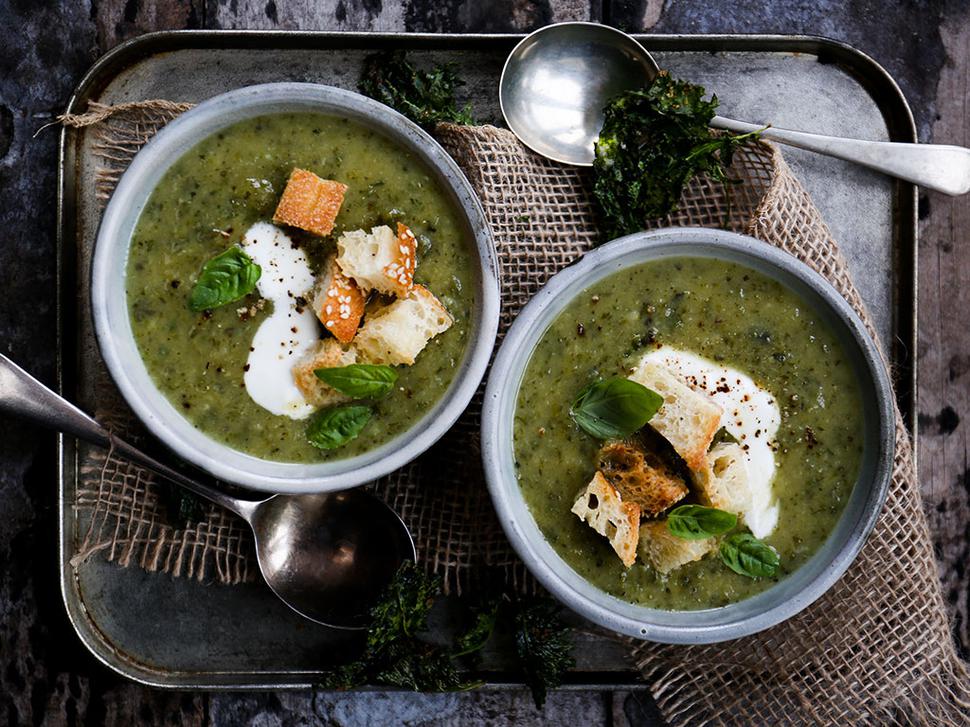 Recipe: Courgette, Garlic and Kale Soup
Wednesday March 11, 2015
COURGETTE, GARLIC AND KALE SOUP
Serves 4-6
• 2 onions, quartered
• 6 cloves garlic, peeled
• 2-3 Tbsp olive oil
• 2 Tbsp butter
• 1 tsp cumin
• 1 tsp coriander
• 6 medium courgettes, chopped roughly
• 500ml chicken stock
• 2 cups kale
• 1 cup basil leaves
• Salt and pepper, to taste
• 1-2 cups croutons, to serve
1. Set oven to 180C.
2. Place onions and garlic on a sheet of tinfoil and drizzle with oil. Pull the sides of the tinfoil together tightly. Bake for 40 minutes until the vegetables are soft and squishy.
3. Heat butter in a large pot. Add onions, garlic, cumin and coriander, stirring for two minutes, then courgettes, stock and kale. Bring to a simmer for 15 minutes, until the courgettes are completely soft. Add basil and season.
4. Blitz with a blender stick until almost smooth.
5. Reheat, check the seasoning and serve with croutons.
Share this:
More Food & Drink / Recipes