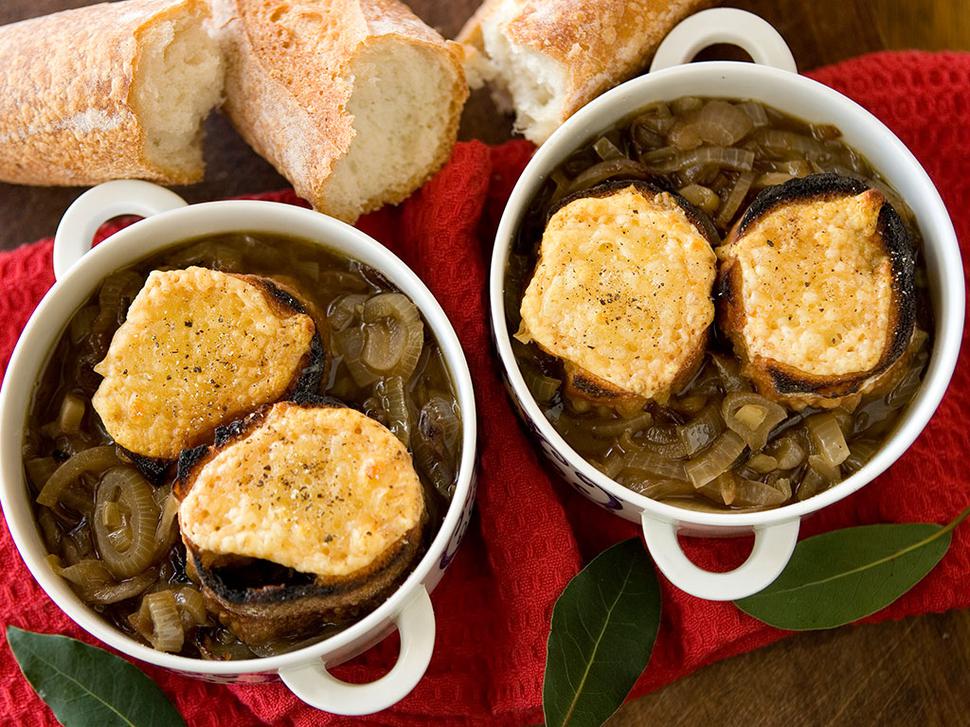 Recipe: French Onion Soup
Friday June 13, 2008
FRENCH ONION SOUP
Serves 4
• 50g butter 
• 2 bay leaves 
• 2 tsp fresh rosemary 
• 3 brown onions 
• 3 red onions 
• 3 cups white wine 
• 2 cups chicken, veal or vegetable stock 
• 1 Tbs brandy 
• 8 3cm thick rounds of sourdough 
• Gruyere cheese, sliced thinly 
• Pepper
1. Preheat oven to 180C. Using half of the butter, grease a baking dish (approximately 30cm x 20cm or big enough for the onions to form a well-packed layer) then slice the onions into rings. Lay in the dish and dot over the remaining butter. Add the bay leaves and fresh rosemary.
2. Pour over the wine, stock and brandy and bake for 2 hours, stirring 2 or 3 times.
3. Increase the oven temperature to 200C. Top the sourdough with the gruyere, lay on top of the onions and continue cooking for a further hour or until bubbling and golden. Turn off the oven then put 4 ovenproof bowls in to warm. After 5 minutes transfer the soup to the bowls (remove toast first and then place evenly on top of each filled bowl) and serve. Add a grind of pepper over the toast before eating.
Share this:
More Food & Drink / Lunch