Recipe: Little Bird Morning Greens Smoothie
Megan May of Little Bird shares a feijoa-filled smoothie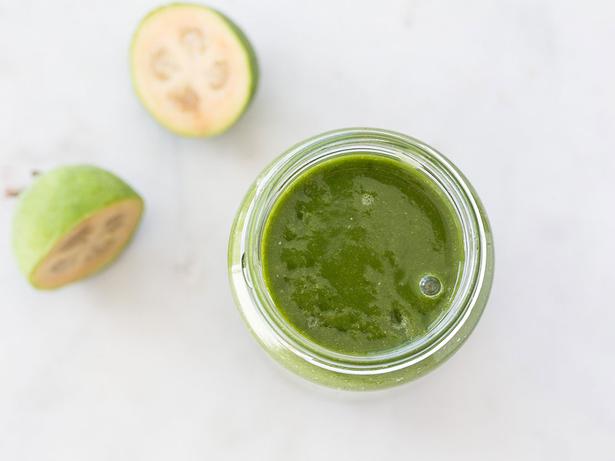 Tuesday April 28, 2015
The recent launch of the Vitamix Professional Series 750 had foodies all fired up about the blender's expert smoothie and nut milk-making abilities. Little Bird's Megan May put the machine through its paces, rustling up a green smoothie, packed with feijoas, kale and banana. She shares the recipe below.

MORNING GREENS SMOOTHIE WITH FEIJOAS
We don't muck around when it comes to making smoothies that are insanely good for you and leave you feeling like you have had something delicious and even a little treaty.
Follow three simple steps to achieve this without having to go shopping for the recipe. You need seasonal fruit, some greens and a dollop of nut butter or coconut yoghurt. Having some greens with your fruit helps balance out the effect of any natural sugars in the fruit — celery is particularly good for this.
Feijoas are in full force at the moment so we are using these as our seasonal fruit — you can usually gather up some from the street trees on your morning walk free of charge!

INGREDIENTS
Serves 2
• 3 medium feijoas
• 1 frozen banana
• 2 Tbsp almond butter
• 1 stick celery (with a few leaves for extra vitamins and minerals)
• 1 large handful of kale
• A few mint leaves
• Squeeze of lemon or lime to taste
• 1 cup water
• 1 cup ice
1. Strip the kale from the stalk and discard stalk.
2. Scoop out the flesh from your feijoas. Throw these in your Vitamix along with the rest of the ingredients.
3. Blend for around 40 seconds or until smooth. Pour into two large glasses and enjoy.

• The Vitamix Professional Series 750 is available from May 1 for $1595. For stockists see here.
Share this:
More Food & Drink / Breakfast & Brunch