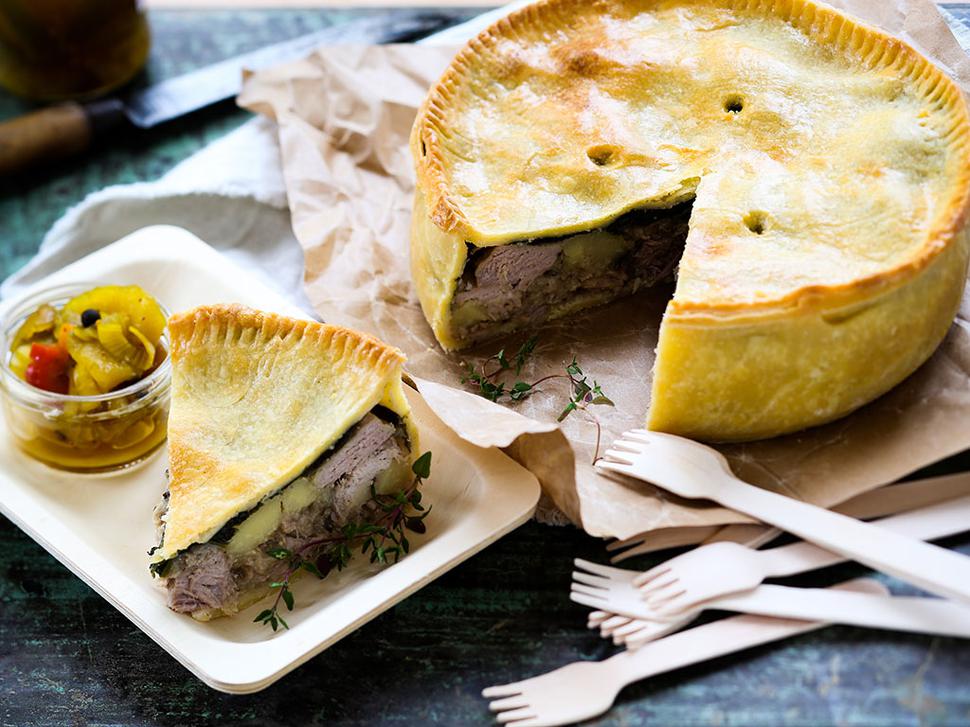 Recipe: Pork and Kumara Pie with Hot Water Pastry
Angela Casley's pork and kumara pie always goes down well with a hungry crowd
Thursday March 5, 2015
PORK AND KUMARA PIE WITH HOT WATER PASTRY
Serves 6-8
• 2 Tbsp oil
• 2 onions, sliced
• 2 cloves garlic, crushed
• 1 tsp dried thyme
• 1kg pork shoulder or leg, cut into 2cm cubes
• 1 large kumara, cut into cubes
• 1 Tbsp wholegrain mustard
• 500ml chicken stock
• Salt and pepper
• 1 Tbsp cornflour mixed with 2 Tbsp water
• 2 handfuls spinach
Pastry
• 120g butter
• ¾ cup hot water
• 2 ¼ cups flour
• 1 tsp salt
• 1 egg
1. Heat oil to medium hot in a large pot. Add onion and garlic, cooking until softened. Add the thyme and pork. Stir until the pork is slightly coloured. Add mustard and stock. Bring to a simmer for 30 minutes then add cubed kumara and continue to cook for 30 minutes or until the pork is tender. Season with salt and pepper.
2. Stir through cornflour mix to thicken the sauce. Remove from heat and cool completely before filling your pie case.
3. To make pastry, use a small pot to melt the butter in the water.
4. Place flour and salt in a large bowl. Add the egg, then pour in hot butter. Mix with a knife to form a soft warm dough. Knead on a lightly floured bench until smooth and elastic.
5. Remove a third of the dough. Roll the remainder large enough to fit your tin allowing for some overhang. Line the tin. On baking paper, roll remaining third to fit on the top of the pie. Place all the dough in the fridge for 1 hour to harden.
6. Heat oven to 180C.
7. Remove pastry from the fridge. Fill with pork filling. Place spinach on top. Brush edges with water, then fit the top on. Using a fork, stick the edges down. Brush the top with egg yolk and bake for 50 minutes or until golden.
8. Remove and cool completely before serving. Delicious with home-made chutney and salad.
Share this:
More Food & Drink / The Latest