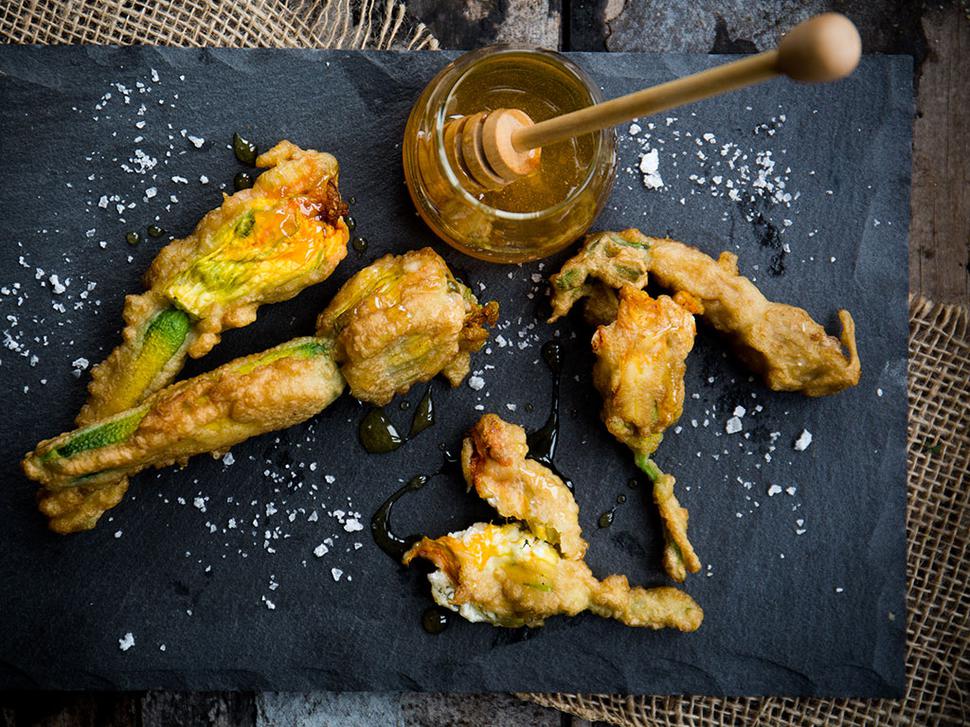 Stuffed Courgette Flowers Recipe
When courgettes are abundant, make these delicious stuffed flowers
Wednesday March 11, 2015
RICOTTA AND PARMESAN-STUFFED COURGETTE FLOWERS
Serves 4
• 8 courgette flowers, baby courgettes still attached if possible
• 150g ricotta
• ½ cup shredded parmesan
• ¼ cup basil leaves, torn roughly
• Salt and pepper, to taste
• Batter
• 80g flour
• 60g cornflour
• ½ tsp baking powder
• ¼ tsp salt
• 1 egg white
• 100ml cold water
• Oil for shallow frying
• Runny honey to drizzle
1. Handle courgette flowers gently. Remove any dirt and stamens from the flowers.
2. In a small bowl, combine ricotta, parmesan, basil, salt and pepper. Carefully spoon mixture into the flowers, not overfilling. Twist the end to seal.
3. To make the batter: mix the flours, baking powder and salt in a bowl. Place egg white in a well in the middle, then slowly add the water, mixing until you have a smooth batter, the consistency of cream.
4. In a heavy-based frying pan heat the oil to a medium heat. (Drop a piece of bread in — if it browns in 20-30 seconds your oil is ready.)
5. Dip flowers in the batter, drain any excess and shallow fry, a couple at a time, turning as required. Drain on paper towels.
6. Serve warm, drizzled with honey.
Share this:
More Food & Drink / Recipes