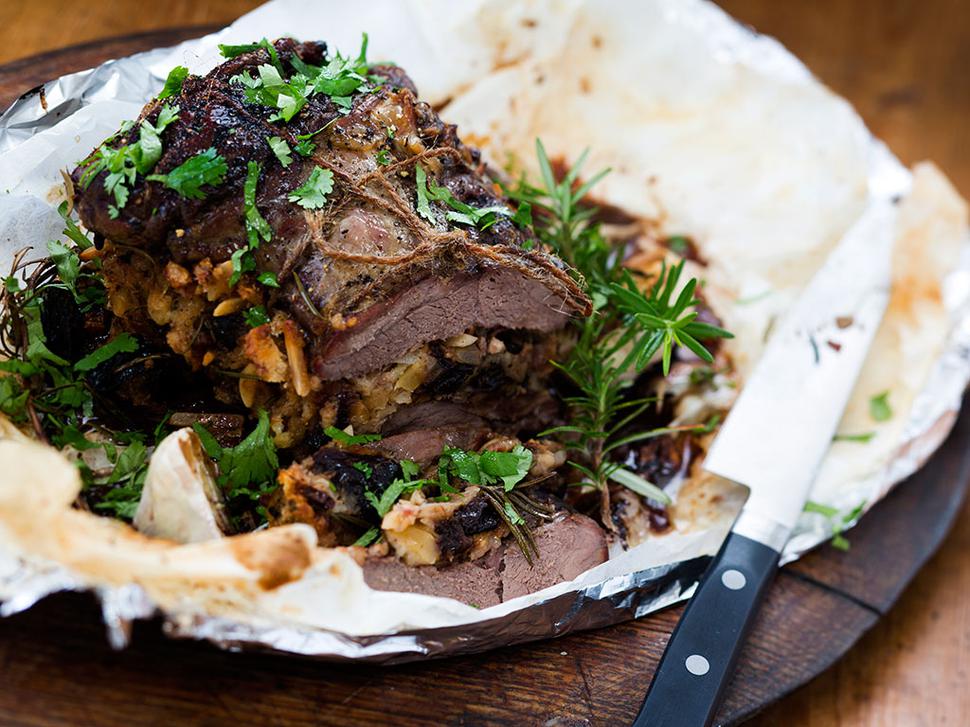 Recipe: Stuffed Leg of Lamb with Prunes and Almonds
Wednesday April 1, 2015
STUFFED LEG OF LAMB WITH PRUNES AND ALMONDS
Serves 6
• 1 Tbsp butter
• 1 onion, chopped
• 2 cloves garlic, crushed
• 2 slices prosciutto, chopped roughly
• 1 Tbsp chopped rosemary
• 1 cup prunes, cut in thirds
• ½ cup roasted slivered almonds
• ½ cup fresh breadcrumbs
• 1 Tbsp mint jelly or sauce
• Salt and pepper
• 1 boned leg of lamb, flat
• 1 cup red wine
• 2 rosemary stalks
• 1 clove garlic, cut in half
1. Set the oven to 180C.
2. Melt butter in a frying pan. Add onions and garlic, cook 5 minutes until soft. Add prosciutto, cook for a further 2 or 3 minutes.
3. Put onion mix in a large bowl. Add rosemary, prunes, almonds, breadcrumbs, mint jelly, salt and pepper.
4. Cut the leg of lamb in half so one side will fit on top of the other like a sandwich. Spread stuffing on the bottom half. Place the other half on top. Tie tightly with string to keep it snug. Place in a baking dish. Pour wine over, add rosemary stalks and the garlic bulb.
5. Bake for 50 minutes to an hour until golden and cooked through.
6. Allow to sit for 10 minutes before carving.
Share this:
More Food & Drink / Dinner