Warm Beef and Mushroom Salad Recipe
This warm beef salad is perfect to throw together this time of year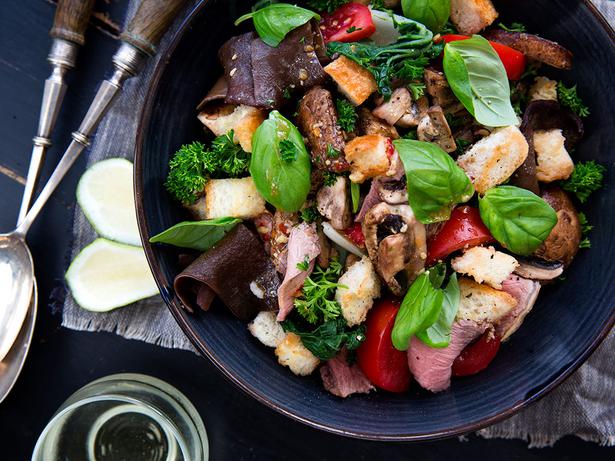 Friday May 22, 2015
WARM SALAD OF BEEF AND MUSHROOMS WITH CRUNCHY CROUTONS
Serves 4
4 x 120g sirloin steaks
1 tsp paprika
2 Tbsp olive oil
2 cloves garlic, sliced
250g mixed mushrooms
4 tomatoes, quartered
2 cups croutons
½ cup basil leaves
¼ roughly chopped parsley
Dressing
1 Tbsp oil
2 Tbsp lime juice
1 Tbsp sweet chilli
½ tsp brown sugar
1. Rub the steaks with paprika and set aside.
2. Heat oil in a frying pan to a medium heat. Add the garlic and saute for 2 minutes until lightly browned. Set aside.
3. Heat pan to high and cook the steaks for 3 or 4 minutes on each side or until done to your liking. Set aside for 10 minutes before slicing thinly.
4. In a large bowl, combine the mushrooms, garlic, tomatoes, steak, croutons, basil and parsley.
5. Mix the dressing ingredients in a jar and shake well. Dress the salad and serve.
Share this:
More Food & Drink / Dinner