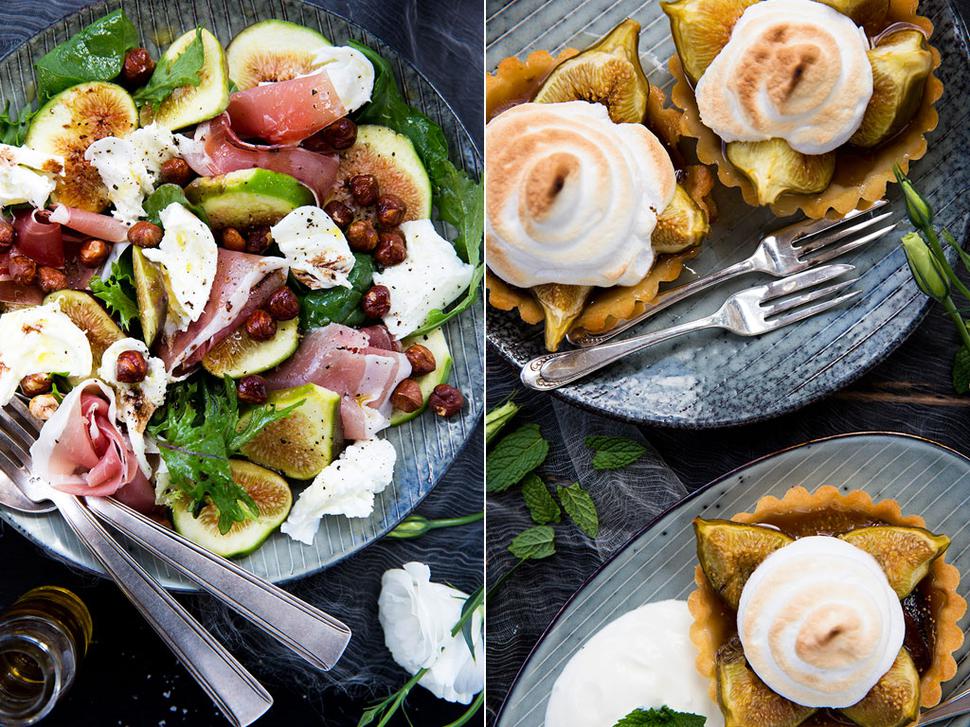 Recipes: Giving A Fig
Making the most of the Greeks' favourite fruit
Friday March 20, 2015
I've had a serious tussle with the birds to get the best of the figs. Under the tree I go each day, picking bowl after bowl of the beautiful fruit. It has been an amazing season. The figs are plump, juicy and have that divine deep purple/green colour that makes them so attractive on the plate.
I've made jars of fig jam and jelly, poached them in the oven with port, orange juice and mint, and served them with a large dollop of mascarpone for dessert. I've also eaten far too many straight from the tree.
Figs bring a delightful elegance to today's salad, with its sophisticated mix of ingredients that don't require too much fuss. Mozzarella, prosciutto and nuts complement the flavour of the figs, and can be put together in minutes. This is a fab recipe to have up your sleeve for a really quick creation.
I'm also enjoying reheating my home-made flatbread with its delicious fig and feta topping — it's so pretty, and if the figs are really ripe they require very little cooking. You can substitute blue cheese for the feta if you want a bit more punch.
Flatbread is versatile and easy to make. Once you have started making your own there is no going back. Use the breads to wrap around a kebab, dunk into a roasted vegetable dip or scoop up the juices from a meal. They'll come out of the oven crisp, but wrapping them in a tea towel will soften them up. They're also great to freeze. You can use a dough hook to knead, but I find it satisfying doing this by hand.
The hardest part of making these fig tarts is resisting picking at the sweet pastry! Like all raw sweet mixtures it's a bit too good. You can use figs that are not perfectly ripe in this recipe as they bake in orange juice and honey.
Italian meringue is smooth and glossy, the perfect texture to pipe or spoon on to the tarts. A quick 30 seconds under the grill and you have an attractive dessert that is bound to impress. Serving the sweet tart with a good Greek yoghurt adds a sour note — a wonderful combination.


Recipes:
• Fig, Mozzarella and Prosciutto Salad
Share this: