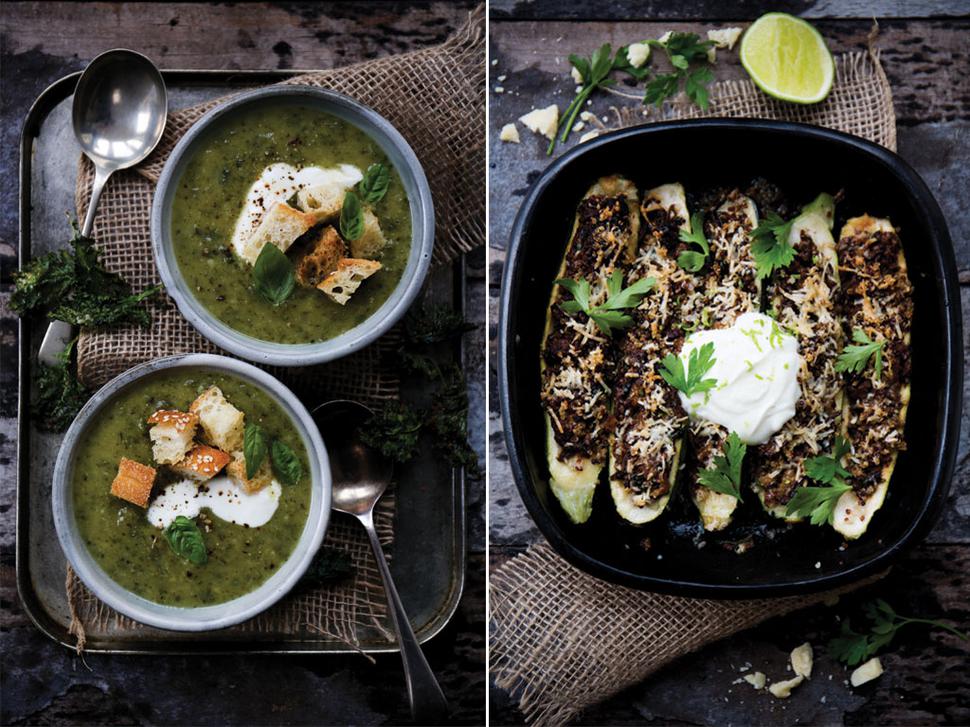 Recipes: Survival of the Tastiest
Angela Casley has delicious ways of using up the end-of-summer bounty of courgettes
Friday March 13, 2015
Even when it hasn't rained for a while, the courgettes just keep on growing. It's why they're so popular in the dry Mediterranean. My tomatoes and courgettes have grown into one another; it's so satisfying to pick up a big leaf and find a fresh, small, shiny green courgette tucked underneath.
This humble vegetable is a real survivor and can be eaten during all stages of its growth.
They often grow so quickly they get away on you and, before you know it, they are marrows. Perfect then, for stuffing.
There are so many ways to use a courgette. Long gone are the days of just boiling it and eating it plain as a rather bland vegetable on the side.
Try it in a fritter mixed with feta and chilli, roasted, grated then pan-fried with garlic and served on a crostini with blue cheese. Or sliced and dipped in parmesan crumbs and fried — the list goes on and on.
Don't go past this vegetable. With a little love it can become a taste sensation.
Every year, my Mum makes buckets of courgette soup, a quick way to use the abundance from her garden. It's always good to arrive at her house when the soup pot is on the boil.
I have roasted the onions and garlic first in my recipe. Although it sounds like a lot of garlic, once roasted, the flavour is subtle. Then it is just a matter of cooking everything up in a pot, a quick blitz and it's ready to eat or freeze for the coming winter months. Place it in small containers to freeze so a speedy lunch for one is on hand. Defrost, reheat, and serve with hot toast.
I would have liked to stuff a marrow but I didn't have one so, here, I've used the filling in courgettes. If you're using a marrow, boil for a little longer to soften.
Lamb and quinoa are a great combination in this stuffing, but you can use cooked rice if you can't get quinoa. I like to add parmesan to mine, but a tasty cheddar will be fine.
Most vegetables are suitable for stuffing, in particular, tomatoes, peppers and aubergine. This method was considered quite fancy in the 1980s.
It's not easy to come by courgette flowers. If you grow your own and are quick enough to get the delicate flowers from your plants, treat them with care. It's even better if you can find them with a tiny courgette attached. They'll last a couple of days covered in the fridge.
When you have enough, stuff and fry until crispy. They are a real treat. Mushrooms are also delicious stuffed with this simple filling and baked.


Recipes:
• Courgette, Garlic and Kale Soup
• Lamb and Quinoa-Stuffed Courgettes
Share this: