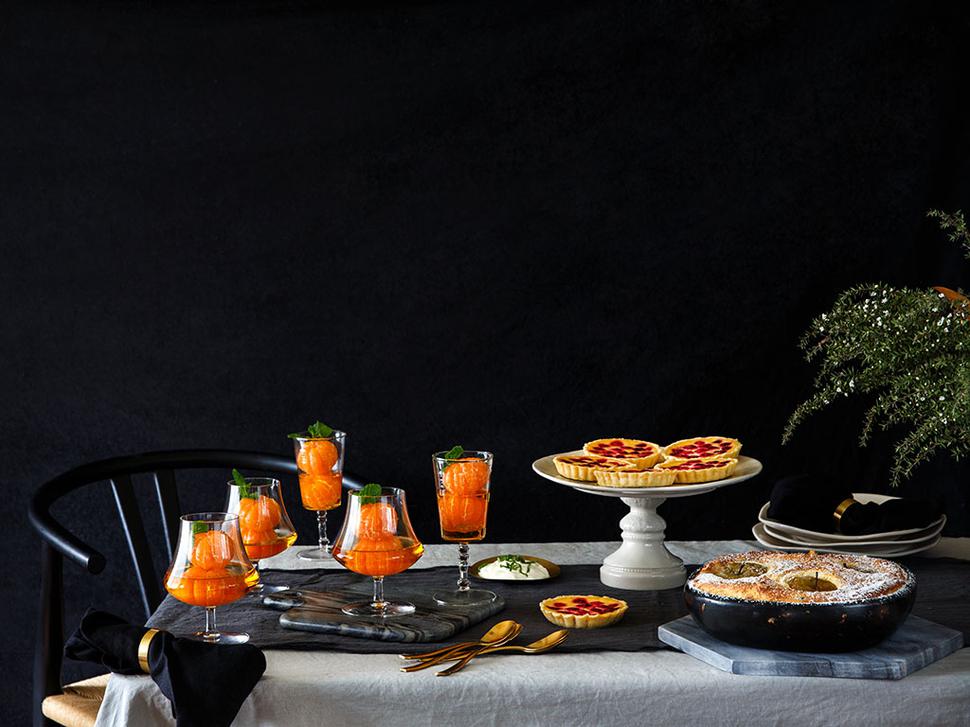 Recipes: Sweet Servings
A pot luck is a great opportunity to try new desserts
Friday June 5, 2015
I went to a pot luck dinner recently where there was a surplus of desserts, no greens and loads of yummy meat and seafood dishes. The greenest thing was the parsley on the stuffed eggs. It was hysterical, there hadn't been too much planning but that's just how it is sometimes and we embraced it and had a great night.
I was in my element as I have a sweet tooth. I got to eat loads of desserts I don't even think of making at home. A delicious ambrosia made mainly from Greek yoghurt was delicious, as was the mandarin creme caramel and mint slice.
Mandarins are amazing at present. I have a bowl of freshly picked ones on the table, thanks to a groaning tree I have access to.
An elegant and simple way to eat mandarins is to peel them completely, remove the outside pith and then serve in a light caramel sauce. They are so fresh at the end of a meal, and with the addition of a little mint and creme fraiche, this has to be the easiest dessert in the world.
Raspberry and lemon tarts are one of my all-time standbys as I always have frozen berries on hand. The raspberries, of course, can be replaced with other berries. If it's easier, make one large tart, and always serve with a bowl of whipped cream.
Unlike other souffles this impressive-looking apple and semolina version will hold its shape. I used to make this in Scotland on cold days for a lunchtime dessert for the game hunters — guaranteed to warm them up before they headed outdoors in the Highlands.
If you are taking it to a dinner, it will benefit from a quick warm-up in the oven. The apples are super-soft so can easily be divided into portions. Whipped cream or custard will top off this dessert.
Remember the idea of a pot luck is to have an enjoyable meal in a warm, relaxed atmosphere. So don't fret and remember to try a little of everything. You may be inspired.

MANDARINS IN CARAMEL SAUCE
Serves 4
• 8 mandarins
• 1 cup caster sugar
• 1 cup water
• Mint leaves to garnish
• Creme fraiche, to serve
1. Peel mandarins and set aside.
2. Into a small pot place sugar and water. Slowly bring to a simmer and continue to cook for 10-15 minutes until mixture starts to turn a caramel colour. At this stage keep a close eye on it. It will brown very quickly. When it is a caramel colour remove from heat and add ¼-½cup water. It may spit a bit at you, so do this carefully. Stir until syrup is clear. Cool.
3. Place mandarins in glasses and pour over caramel sauce. Decorate with mint leaves and serve creme fraiche on the side.


RASPBERRY AND LEMON TARTS
Makes 6
Pastry
• 1½ cups flour
• ¼ cup sugar
• 80g butter, cut in cubes
• 1 egg
Filling
• 2 eggs
• ¼ cup sugar
• Zest and juice of 1 lemon
• 1 cup cream
• 1 cup frozen raspberries
1. Preheat oven to 180C.
2. Place flour, sugar and butter in a food processor and blitz until it becomes fine crumbs. Add egg and blitz to form dough. Line 6 x 8cm tart tins with dough. Bake blind for 15 minutes.
3. Gently whisk together eggs, sugar, lemon and cream. Sprinkle raspberries into bottom of the tart tins. Gently pour filling into tins. Bake for 15-20 minutes until filling is just set.

SEMOLINA AND ROASTED APPLE SOUFFLE
Serves 4
• 4 granny smith apples
• 10g butter, melted
• 1 Tbsp caster sugar
• 500ml milk
• Zest of ½ orange
• ¼ tsp vanilla essence
• ¼ cup sugar
• ¼ cup cranberries
• 70g semolina
• 4 eggs, separated
• Whipped cream to serve
1. Heat oven to 170C. Butter an ovenproof dish approx 24 x 30cm, and sprinkle with flour to prevent souffle from sticking.
2. Line a baking tray with paper and place granny smiths on it, unpeeled. Brush apples with butter and sprinkle over sugar. Bake for 25 minutes until a skewer sinks in easily.
3. Place milk, zest and vanilla in a pot. Bring to a simmer. Add second quantity of sugar and cranberries. Slowly pour in semolina, stirring continuously to prevent lumps. Cook for 2 or 3 minutes until mixture thickens. Allow to cool for a few minutes.
4. Beat egg yolk into semolina. Beat egg whites on high until stiff but not dry. Fold through semolina mixture. Pour mixture into baking dish, then gently place apples into mixture standing upright.
5. Place into preheated oven for 25 minutes until just set, light and fluffy.
6. Serve warm with whipped cream.
Share this: