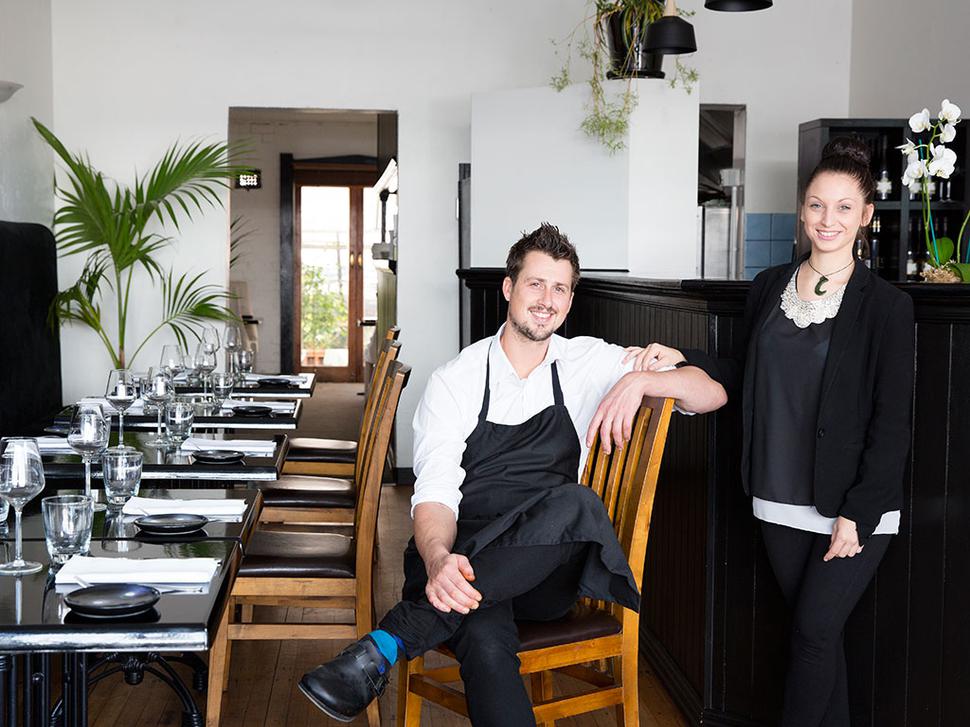 Restaurant Review: Phil's Kitchen
Phil's Kitchen in Kingsland is fast gaining a reputation for excellence, writes Viva's new eating out editor, Jesse Mulligan
Wednesday April 29, 2015
Address: 479 New North Rd, Kingsland.
Phone: 021 0588 837
Cuisine: Modern
From the menu: Kingfish ceviche ($16.50), crispy pork belly ($19), pan-fried scallops ($19.50), smoked duck ($38), confit salmon ($32), slow-cooked lamb ($36), cinnamon-sugared doughnuts ($14), passionfruit meringue ($14).
Drinks: Fully licensed.
Rating: 9/10


You know the feeling when you finish a restaurant meal and you've eaten too much? You never want to see another mouthful of food again, you can't understand why people at the tables around you are still ordering, and all you can think about is getting home, taking your pants off and lying face down over a beanbag until it's time for bed.
That's pretty much how I felt when reporting for duty for the first time at Viva this week.
Having eaten out daily while judging my final Metro Top 50, I turned up for the new job feeling uncomfortably full, and secretly feared my debut review would inevitably reflect the fact that, you know, I didn't really feel like eating.
How lucky for you and me both, then, that Phil's Kitchen is phenomenally good.
Though Auckland these days has a new restaurant opening each week, and most of them are solidly nice places to eat, Phil's is something different. The food is ambitious and delicious, and the people who work there are so adorably enthusiastic that when you leave you want to run out and tell everybody in Auckland about it. Fortunately, that's my job.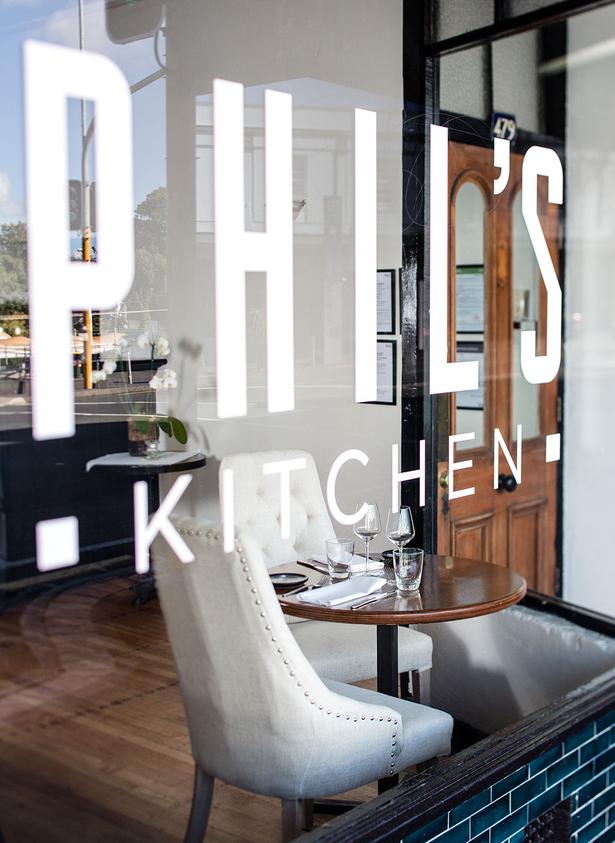 The chef is Phil Clark, who worked under Michael Meredith and more recently some very big names in London. While there he met his partner and now front of house manager, Marine, who, he told me proudly, worked at multi-starred Michelin favourite La Plage in Paris from the age of 14 before meeting the right Kiwi boy and giving it all up to open a restaurant in Kingsland, Auckland.
What does she get for her troubles? A waiter she hires, who doesn't show up, a phone line the previous owner shuts down without notice and an eftpos machine that's on the blink. I hope Phil's hidden her passport.
Despite these hiccups, things run very smoothly in this cosy little room on New North Rd, where every seat is filled and at least two walk-ins are turned away on the evening I visit. If Marine needs another staff member she's hiding it well and, despite the logistical setbacks, Phil is the happiest looking chef I've met.
While the setting says neighbourhood bistro, the food is fine, modern and French. It's a short menu but every dish is a little artwork with occasionally playful surprises.
Scallops come with crunchy kale, cauliflower puree and, instead of the usual porky morsel, a sort of snow made of duck crackling; to cut the richness of all that? A freaking purple kale gazpacho.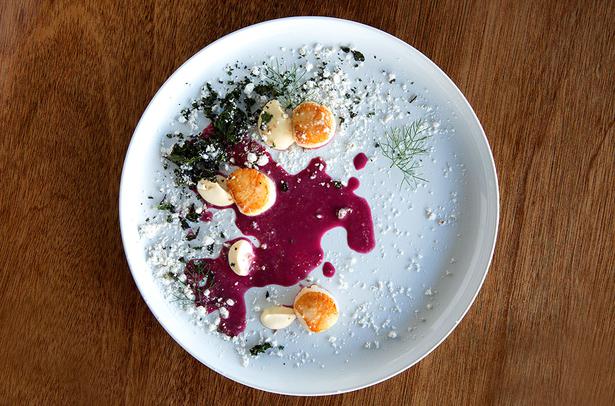 Kingfish is cured with traditional lime but also maple, rounding the acid with subtle sweetness. Pork belly is paired with two textures of feijoa, this and other small-window ingredients are a sign Chef is waiting to write his menu until he gets home from market.
My only complaint is the salmon. Cooked sous vide, it was perfectly done but a bit wet and rich for me. It's a function of that particular pink fish, really, but at least when it's roasted or pan fried you get some fat crunch or caramelisation. This was a bit one-note, with no sharp notes from the rice or other vegetable accompaniments to help you get through it.
The slow-cooked lamb will be a crowd favourite, partly because it's so accessible. Who doesn't like a lamb shoulder treated properly? And served as it is with peas and courgettes it's the dish that most resembles something you'd eat at a more traditional restaurant. It's not until you hit the onion and anchovy puree you remember there's a chef with big ideas at work.
As with most chefs doing this level of food in Auckland (and there can't be more than a dozen), you hope he's got the energy to keep doing it. I think I'd find it hard to get out of bed each day and liquefy my kale, mix it with merlot vinegar and brown sugar, emulsify it with olive oil, then thicken it up with mayonnaise — all for one element out of six in one dish out of 14.
Phil's homebaked doughnuts are the greatest simple dessert I can remember eating in Auckland: light pastry globes, dusted in cinnamon, but not sugar, so no true sweetness until you hit the soft caramel centre.
I ate almost everything on the menu, and left feeling better than when I went in. I'm so excited about finding 50 more great restaurants for you in the next 50 weeks. Thanks to Phil's Kitchen, I'm hungry again.
Share this:

More Food & Drink / Good for a Date