Wine: A Dozen Rich Reds for Winter
Choose a succulent, hearty drop to complement those heavy cold-weather meals
Saturday June 6, 2015
As the months get colder the wines we choose should get bolder to match the robust fare of the season. Here are 12 hearty reds covering the rich, ripe and savoury spectrum that should make for delicious winter drinking.

RIPE
Riper characters in a wine tend to be the product of warmer climates, such as Australia, South America and the Mediterranean. They're also to be found in wines from cooler parts of the world in warmer years, such as the 2013 vintage here in New Zealand, which saw many impressive examples produced across the country. Wines made in this weightier style can handle the often intense and assertive characters of winter cuisine: think fuller-flavoured dishes and red meats, such as beef and lamb.
Esk Valley Gimblett Gravels Merlot Cabernet Malbec 2013 $19.99
A tasty trifecta of Bordeaux varieties combine in this generous, well-priced Hawkes Bay blend with ripe and juicy dark fruit, dusted with notes of cocoa. From most supermarkets and fine wine stores.
Chakana Estate Mendoza Malbec, Argentina 2013 $23.99
Big, rich and ripe, this is a seductively succulent example of Argentina's flagship red variety, with notes of dark berry fruit, dark chocolate, prune and meat-friendly tannins. From Glengarry and other fine wine stores.
Maude Central Otago Pinot Noir 2013 $36
Central Otago produces some of the world's most vibrantly fruited and intense pinot noirs, which means they can work well over the winter months. This plush, supple specimen is cut from a classic Otago cloth, with a lovely concentration on its ripe cherry fruit laced with liquorice spice. From maudewines.com and fine wine stores.
Taylor's Promised Land South Australia Cabernet Merlot 2013 $15.99
Concentrated wines don't often come cheap, but this red Aussie blend offers great value, with a liqueur-like richness to a palate that's reminiscent of kirsch and plum, infused with fragrant notes of cinnamon spice and finishes with a gentle touch of tannin. From New World, Pak n Save and Countdown.
Mills Reef Reserve Gimblett Gravels Hawke's Bay Syrah 2013 $24.95
Another cracking wine from the 2013 vintage in Hawkes Bay, this smooth, ripe syrah boasts attractive black plum fruit, notes of sweet and peppery spice, a hint of vanilla and lick of ripe tannins. From Glengarry, First Glass, Point Wines and Liquorland Northcross, Forrest Hill and Newmarket.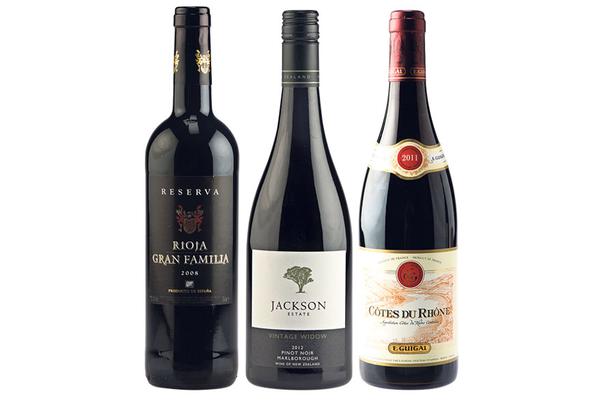 SAVOURY
At this time of the year, there's often an earthy character to the foods we crave — found in the likes of game, mushroom dishes, casseroles, slow-cooked meat and pies — making wines with a more savoury profile the best matches for these dishes. A variety such as pinot noir might produce lighter wines, but can often exhibit a savoury gamey character that's in harmony with these flavours. Age can also accentuate this character in a range of reds, which soften and develop notes of forest floor making winter a great time to bring out those older bottles you've squirrelled away in the cellar.
Gran Familia Reserve Rioja, Spain 2008 $19.99-$24.99
Mellow and mature, age has bestowed a soft, spicy and savoury profile to this rioja with its meaty notes and ripe red fruit. From fine wine stores including Glengarry, Accent on Wine and Fine Wine Delivery Company.
Jackson Estate Vintage Widow Marlborough Pinot Noir 2012 $34.99-$36
Opulent plum fruit is underpinned in this impressive Marlborough pinot by rich, savoury notes of mushroom, game and hint of spice. From Glengarry and other fine wine stores.
E Guigal Cotes du Rhone, France 2011 $24.95
This bold and spicy blend of syrah with a soupcon of grenache and mourvedre combines ripe dark fruits supported by supple tannins with a hint of clove and a savoury, meaty edge. From Glengarry Wines, First Glass Wines & Spirits, The Fine Wine Delivery Company, Liquor King.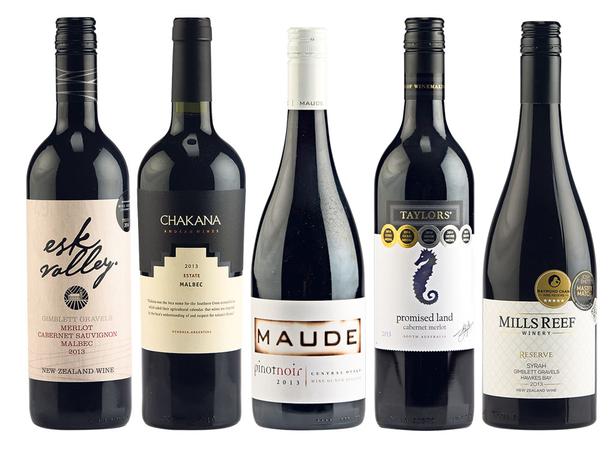 RICH
Richness is a trait that often goes hand in hand with ripeness in terms of both style and provenance. The wines in this section have been grouped together for their sheer concentration. The table wines are perfect partners for red meats, while the port pairs well with rich chocolate desserts and stronger hard or blue cheeses.
La Corte Old Vines Puglia Negroamaro, Italy 2012 $21
From the sunbaked south of Italy comes this rich red with its voluptuous dark fruit, notes of prune, chocolate and fruitcake spice. From Caro's.
Bodegas Mustiguillo "Mestizaje" El Terrerazo 2012 $34-$36
Bodegas Mustiguillo has championed the local bobal variety, which goes into this densely fruited and fragrant wine along with garnacha, syrah and merlot. Aromas of star anise, violet and incense thread its ripe, concentrated blackberry and blackcurrant-fruited palate. From The Village Winery, stvincentscave.com
Trinity Hill "The Gimblett" Gimblett Gravels 2013 $35
Trinity Hill's flagship red blend of cabernet sauvignon, merlot, cabernet franc and petit verdot really shines in the 2013 vintage. It's a powerful wine with bright, pure dark berry and blueberry fruit, notes of dark chocolate, sweet spice and firm but ripe tannins. Drink now or enjoy with more age in winters to come. From Liquor King, Glengarry, Fine Wine Delivery Company, Caro's.
Dow's Late Bottled Vintage Port, Portugal 2008 $58.99
Warming fortified wines, such as port, really come into their own on cold winter nights. Dow's makes a classic rich and velvety LBV that's sweet on entry, with full-bodied cassis liqueur fruit, finishing on a drier note. From fine wine stores.
Share this:
More Food & Drink / Wine & Drink