Wine: Harvesting with Herzog
A Marlborough vineyard has some intriguing grape varieties that are ripe for tasting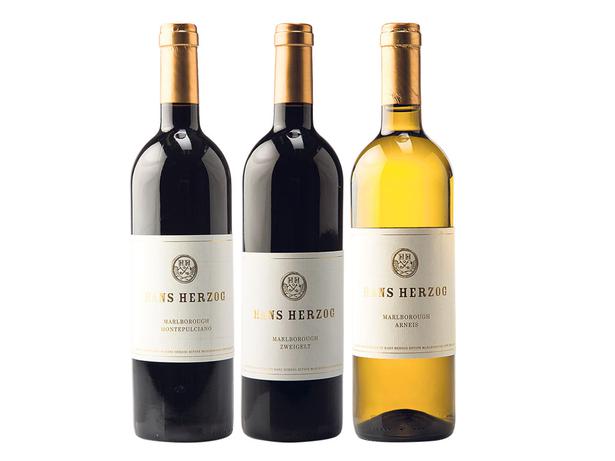 Saturday May 2, 2015
It's a sunny Marlborough Saturday morning and I'm up bright and early armed with secateurs. It's Herzog's harvest weekend, an annual event at which the winery unleashes a pack of wine lovers and professionals on their vines to give them a real taste of the vintage.
I always like to get into the vineyards at this time of year. There's nothing like being on the ground at this crucial period in the wine calendar to get a truer idea of the vintage than can sometimes be conveyed by some glass half-full reports released in the aftermath.
However, given the precocity of this year's vintage, I wondered if there'd be any grapes left for me to get my hands on.
"We started picking a week ahead of an already premature 2014," says Hans Herzog, but he's left us his last three varieties to pick.
"The harvest is an exciting time for me, not nerve-racking," he tells me. "Every year we look forward to it. When to pick is the most important decision to make, so we're watching the weather forecast; walking through the vineyards and tasting the grapes for ripeness all the time."
We start our day's work in his cabernet block; a rare sight in Marlborough given it's generally considered too cool to grow it here. However, when Hans arrived from his native Switzerland and found this site on the banks of the Wairau River, it reminded him of the cabernet country of Bordeaux and inspired him to make what was to become Herzog's impressive Spirit of Marlborough blend.
I scoff a few cabernet grapes as I snip and lo, they're as perfectly ripe as they look. This is not such hard work at all, I muse, especially given the fruit on Herzog's vines is so sparse, a factor that is also key to Hans' success with cabernet and other varieties.
"We produce wine with lower yields for complexity," says his wife, Therese Herzog. It's a characteristic also enhanced by the estate's vines being planted particularly densely. "Here at Herzog we have 5500 vines per hectare, while most commercial vineyards have 2000."
Grape volumes across the whole region are on the lower side in 2015 — no bad thing after last year's bumper crop. Hans estimates Herzog could be down by 30 per cent or more. It's also been the driest vintage he's seen in the region.
However, from what I see and hear from around the valleys it should be a goodie.
Despite the small crops there's still work to be done, so we get among the Montepulciano. It's an Italian variety of which there are only 8ha planted in the whole country and is another indication of Herzog's non-mainstream approach.
On their small 11ha site, the Herzogs grow an astounding 27 different grape varieties. Unlike Switzerland where the varieties you can plant are laid down by law, here Hans has been revelling in the freedom and is one of the leaders in exploration of new grapes.
From arneis to zweigelt, Herzog grows a cornucopia of varieties and our final block to harvest is nebbiolo. The Italian variety is notoriously difficult to grow and requires a tiny crop to ripen here, so I feel honoured and slightly nervous about being responsible for something so rare and precious.
Soon, all the grapes are safely inside and Hans rings the winery bell to signal the end of the harvest. As he likes to give his big reds more age than most, I won't be able to taste the fruits of my labours for five years. However, we fittingly finish the weekend with bottles from vintages past to toast the end of another successful vineyard cycle.


Hans Herzog Marlborough Montepulciano 2012 $58-$64
With so much concentration, this montepulciano puts many from its Italian Abruzzo heartland to shame with its rich dark berry fruit, hint of liquorice, dark chocolate and firm but velvety tannins.
Hans Herzog Marlborough Zweigelt 2013 $48-$53
Just about to be released, this is a rich, vibrantly fruited Kiwi version of an Austrian variety, with dense and supple ripe blueberry, blackberry and black cherry fruit overlaid with hints of earth, spice and violet.
Hans Herzog Marlborough Arneis 2013 $51
A soft, rounded and mouthfilling example of this Northern Italian white variety, with fresh notes of apple, quince and lemon.
Available from Great Little Vineyards, Fine Wine Delivery, Caro's, Point Wines, herzog.co.nz.
Share this:
More Food & Drink / Wine & Drink