Wine: The Heat Is On
Moet & Chandon is constantly adapting to challenges — one of these being climate change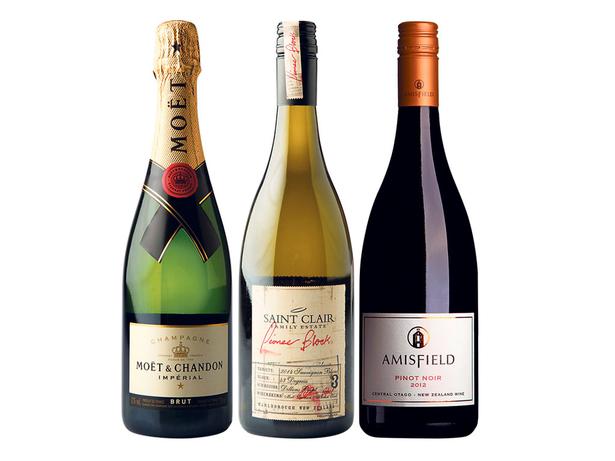 Saturday May 9, 2015
"Champagne is a high-definition wine; it's like a TV screen," Moet & Chandon's Marc Brevot tells me on a recent visit to New Zealand. It's a high-tech analogy that seems at odds with traditional images associated with this classic sparkling wine.
But Brevot is winemaker for the famed house's research and development department, with a role that revolves around ensuring this historic label stays ahead and adapts to the new challenges facing the wider Champagne region.
"At the end of the harvest we have 800 different wines, 100 of which will be used in the blend of one batch of the non vintage," he elaborates. "These wines are like the pixels of the screen: the more you have the more precise your image."
Brevot is talking about the impressive and important art of assemblage practised in Champagne. It's an approach developed to mitigate the vagaries of vintage in this region on the coolest margins of viable viticulture, which sees a wide array of wines combined to make a non-vintage "house" style that remains uniform from one year to the next.
"When you have big volumes you have to be very precise in order to create a wine with this level of consistency," he says of the creation of Moet & Chandon's category leading Brut Imperial NV. "It's our most important product as it's the wine that's carrying the style of Moet & Chandon — its soul if you like — which has continued to be exciting for almost two centuries."
Moet's classic cuvee may have been around for a long time, but its research and development department, somewhat surprisingly, predates it. Back in the late 1700s, Jean Henri Moet, the grandson of the company's founder, employed a scientist dedicated to exploring the science of wine at a time when this was something very new.
Today, Moet & Chandon has a 10-strong team devoted to in-house R&D. They create new products, adapt existing ones and allow the house to be "more creative when it comes to the vintage", according to Brevot. Their most recent development: a real-time monitoring system within the vats to permit great precision in their fermentations.
"Balancing tradition and innovation to stay contemporary is the key to success," says Brevot. "When you've been making Champagne for more than 200 years and are the leader of your category, you need to challenge yourself and continue to innovate as the world around you is always changing."
One major change faced by Moet and the whole Champagne region is that of the climate.
"In the near future we will likely have to almost reinvent ourselves," says Brevot.
"If you look at 2003, which was very hot and dry, we'll probably see years like this more frequently in future.
"This kind of year is very challenging for Champagne as the process wasn't designed to make wine in hot conditions. It's a big change that means we will have to reinvent some parts of our process, whether it's the viticulture or the winemaking."
Moet & Chandon was one of the few houses to make a vintage Champagne in 2003, which Brevot says was part of a learning process of making wines in warmer conditions.
"At the time people thought it was crazy," he says. "But it's important to anticipate and part of making a vintage in 2003 was to generate knowledge. It was a unique year so we thought, let's try to do the maximum to learn the maximum."
Moet & Chandon already has outposts around the world, making sparkling wines through Domaine Chandon label in Australia and in California. However, despite rising temperatures in Champagne, Brevot is confident that the main house is not ready to decamp from Champagne just yet.
"We will stay in the Champagne region as you cannot change the terroir," he maintains. "The climate evolution is having an impact on the terroir but, hopefully, we'll find way to adapt.
Our terroir is very specific: it's an important part of Champagne's signature. You can make very good sparkling wines in other places, such as here in New Zealand, but you can never make something like Champagne anywhere else."


CELEBRATE THIS MOTHER'S DAY
Three great ways to toast Mum
Moet & Chandon Brut Imperial Champagne NV $69.99
Treat your mum with a bottle of this classic and consistently good cuvee with its lifted flavours of apple, citrus and toasty richness. From quality wine retailers.
Saint Clair Pioneer Block 3 43 Degrees Dillons Point Marlborough Sauvignon Blanc 2014 $26.90
A fabulously fragrant and intense sauvignon blanc, with notes of passionfruit, punchy basil, zingy lime and elegant mineral undercurrent. From wine stores and saintclair.co.nz
Amisfield Central Otago Pinot Noir 2012 $45
A pretty Central pinot with silken and bright cherry berry fruit infused with aromatic notes of florals, spice and herb. From Glengarry, Advantage, amisfield.co.nz
Share this:
More Food & Drink / Wine & Drink