Wine: These Hills Are Alive
The quality of the grapes grown on Marlborough's hillsides is making its presence felt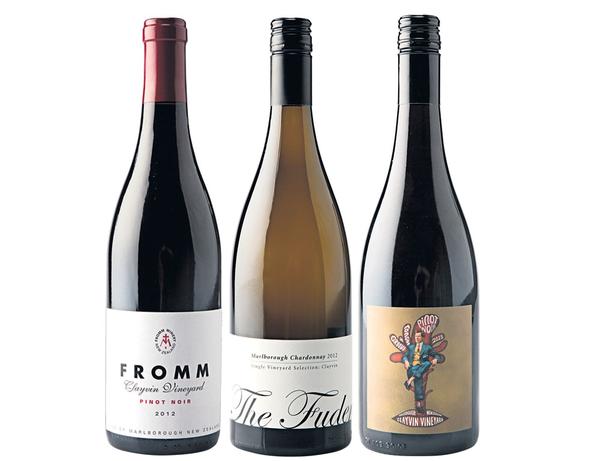 Saturday March 21, 2015
Back in 1991, viticulturist Mike Eaton established Marlborough's first commercial hillside vineyard, Clayvin, prompted by what he'd seen in Burgundy. It went on to make its name through the restrained, well-structured wines of its subsequent owner, Fromm.
Now, it's entering a new chapter under the ownership of Giesen, but is it time to take a cue from the region that inspired it and declare it Marlborough's first grand cru vineyard?
Knowing Burgundy's greatest wines hailed from the hills, Eaton planted Clayvin on the clay slope that gave rise to its name at a time when all Marlborough's vineyards were on the flats. He crammed in more than twice as many vines as was the local norm, a Burgundian practice designed to produce wines of greater concentration.
"I think each region has a handful of sites that are capable of producing wines that transcend variety," Eaton tells me. "What makes a vineyard like Clayvin unique is its ability to make wines that have a signature of the place; an essence that is recognisable at the first whiff."
"Its wines have a naturally excellent structure, which gives pinot noir and chardonnay a textural firmness without being forceful or aggressive," explains Adam Balasoglou of Fromm.
"The wines are always stunning, even in trying vintages, and show concentration and power, yet retain an elegance," says Lynnette Hudson, who has been working with Clayvin fruit for a decade, most recently in a single vineyard expression for Tongue in Groove.
"Clayvin Vineyard is one of those rare vineyards which produce pinots where the focus is on structure and tannins rather than primary juicy fruit.
"In terms of character, the pinot noir has a unique textural component to it, with restraint and earthiness," Giesen's Marcel Giesen adds. "It's very different and quite unique, while its chardonnay is more structural with a savoury element."
It was these consistent qualities, along with the age of the vines — old by New Zealand standards — and their close planting that attracted Giesen to start buying grapes from the site in 2011, and go on to lease a portion in 2013, before buying the vineyard last month.
Giesen has an agreement that allows Fromm to make wine from the vineyard, and is open to others making wine from the site. It's an approach welcomed by Eaton, who wholeheartedly approves of his baby's new guardians.
"I think sharing these special sites is not just sensible, it's essential in order for them to be prized and appreciated," he says.
It's something we're seeing more of, offering fascinating insights into the individual voices that can be heard, regardless of the winemaker, in some of the country's most exciting vineyards. Examples of this include Felton Road, Pyramid Valley and Craggy Range sharing the Calvert vineyard for a vintage in Central Otago, while in Marlborough, Cowley Vineyard has wines made by its owners, Auntsfield, along with Corofin and Pyramid Valley.
Having numerous producers make wines from the same vineyard echoes what can be seen in Burgundy, and I feel a greater focus on single vineyards is the way forward for New Zealand. But the jury's out as to whether we're ready to designate our top vineyards in a way similar to that in France.
Hudson believes it's the next step, while others, such as Giesen, think it's too soon to be calling anything a grand cru site.
"This is terminology that has taken hundreds of years to be applied to the classification of vineyards in Burgundy and it's far too early to make a statement like that here," says Giesen.
"However, Clayvin has the potential to show the consistent hallmarks of longevity, elegance and a lot of aspects that are quite different. It's certainly a special site that we consider a long-term project."


Fromm Clayvin Marlborough Pinot Noir 2012 $80
Rose florals and exotic spice on the nose lead to a dense, savoury edged palate of restrained plum fruit, supported by ripe but muscular tannins. Available from Fine Wine Delivery Company.
Giesen The Fuder Clayvin Marlborough Chardonnay 2012 $59.99
This powerful but elegant chardonnay has attractive notes of flint, toasty but well-managed oak and white peach fruit, underpinned by a line of intense but silky grapefruit acidity that leads to a long, minerally finish. Available at fine wine retailers.
Tongue in Groove Clayvin Vineyard Marlborough Pinot Noir 2013 $45
Another expression of the Clayvin Vineyard, its palate of juicy cherry fruit has the intensity to handle fairly high alcohol, which is joined by notes of earth, spice and meat underpinned by ripe tannins. Available at Glengarry.
Share this:
More Food & Drink / Wine & Drink