Winning Whites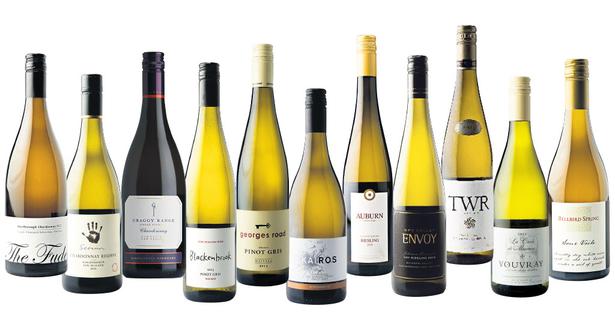 Monday May 25, 2015
Giesen 'The Fuder Clayvin' Marlborough Chardonnay 2012 $59.90
From 19-year-old vines in Marlborough's legendary Clayvin Vineyard, this powerful but elegant chardonnay is in Giesen's limited release 'Fuder' range that takes its name from the large 1000-litre barrel in which the wines are aged. It displays notes of flint, toasty but well-managed oak, white peach fruit and a hint of chicken fat underpinned by intense but silky grapefruit acidity that leads to a long minerally finish. From fine wine retailers.

Seresin Reserve Marlborough Chardonnay 2013 $45
There's a well-judged balance between intensity and restraint in the latest vintage of Seresin's top chardonnay. Made from a blend of its Raupo Creek and Home vineyards, it reveals complex nuances of white fruit, smoke and a toasty, nutty edge wrapped around a vibrant core of citrus and mineral. From fine wine stores.

Craggy Range Kidnappers Vineyard Hawke's Bay Chardonnay 2013 $24.95
Great chardonnays also abound from Hawkes Bay's excellent 2013 vintage, such as this sleek example from the coastal Kidnappers Vineyard. With a minimal oak influence, it takes its cues from the unadorned examples of chablis and is tight and citrusy, with pure white peach, apple and melon fruit and a mineral edge. From Caro's, Glengarry, Point Wines, Fine Wine Delivery Company, Advintage.

Blackenbrook Nelson Pinot Gris 2013 $23.50
While perennially popular with many good easy drinking examples now available, it's hard to find pinot gris that really hits the highest notes. However, this Nelson example nails it with its intense off-dry palate of quince, honey and spice, that's lifted by a fresh, minerally undercurrent. From blackenbrook.co.nz

George's Road Waipara Pinot Gris 2013 $29.99
A richly textured gris that achieves a real harmony between its fresh, lifted notes of florals, mineral, crisp citrus, quince and green apple and its generous savoury and exotically spiced element. From Fine Wine Delivery Company.

Kairos Wild Barrel Fermented Marlborough Pinot Gris 2012 $19.95-$24.95
Fermentation with wild yeasts in barrel has bestowed richness and complexity on this sumptuous gris. Ripe peach and honeyed characters are joined by toasty, spicy, nutty notes, cut by an underlying minerality and freshness. From wine stores including New World Eastridge, Farro Fresh, Liquorland Newmarket, thegoodwinecompany.co.nz

Auburn Bannockburn Central Otago Riesling 2014 $28
This, sadly, is the last ever vintage from this riesling-only label, following the departure overseas of its winemaker. Its swansong is an exquisite wine with just 10 per cent alcohol. There's an awesome intensity to its palate of white peach and lemon over a base of mineral salts with a sweetness that's perfectly counterpoised by its bright acidity. From auburnwines.com

Spy Valley 'Envoy' Dry Marlborough Riesling 2013 $31.90
It can be tricky to make approachable dry rieslings in New Zealand's cool climate, but Spy Valley has done just that in this exhilaratingly intense example from its impressive Envoy range. It's taut, with crisp lime and a steely minerality, but possesses enough ripe fruit to keep it from being austere. From Caro's.

Te Whare Ra Marlborough Gewurztraminer 2013 $32
This weighty, textural gewurztraminer embodies everything that's enthralling about this often-overlooked variety. Made from some of Marlborough's oldest vines, it's rich and viscous, with ripe stonefruit infused with heady florals and a spectrum of spice, spanning savoury to sweet cinnamon. From Liquorland Newmarket, Liquor King Ponsonby, Liquor King Stonefields, Waiheke Wine Centre, Matakana Liquor Centre.

La Croix de Maunay Vouvray, France 2013 $22.50
A great example of chenin blanc from the Loire that displays the variety's characteristic notes of honey, wax, mineral and almond with a gentle sweetness offset by brisk citrus. It's amazing value as well. From Scenic Cellars, The Hamilton Beer & Wine Company, Maison Vauron, Wine & More, Herne Bay Cellars, Point Wines, Fish Bone.

Bellbird Spring 'Sous Voile' (500ml) $40
Released without naming a variety, vintage or region and made in a deliberately oxidative style, this wine from Waipara's Bellbird Spring may fly in the face of current mores, but is a fascinating and flavourful addition to the country's wines. It's an unfortified style but, like fino sherry, it developed a veil of yeast while in barrel, which has imparted an attractive savoury, yeasty character that joins rich notes of hazelnut and tangy apple. From bellbirdspring.co.nz — no delivery charge or minimum order.
Share this:
More Food & Drink / Wine & Drink