Rhubarb and Vodka Jellies Recipe
Try Angela Casley's jellies to get the party started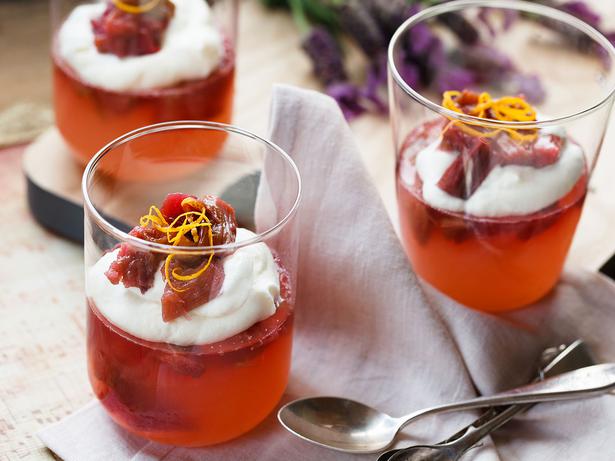 Friday Nov. 20, 2015
There is an abundance of rhubarb growing in my garden. Each Sunday we are stewing rhubarb with apple to enjoy with our muesli during the week. Here, I have made a light jelly with a hint of vodka. (Feel free to alter the liquid to half water, half vodka). A fun finish to a meal before you all head out to dance the night away.

RHUBARB AND VODKA JELLIES
Makes 4
150g sugar
400g water
Peel of ½ orange
6 stalks rhubarb, cut into 2cm lengths
3 tsp gelatin
100ml vodka
1 cup lightly whipped cream
1. Place the sugar, water and orange peel into a pot. Slowly bring to a simmer to dissolve the sugar. Add the rhubarb cooking gently for 5 minutes or until the rhubarb is cooked but still holding its shape.
2. Pour into a sieve and strain off all the liquid and reserve.
3. Sprinkle the gelatin into ½ cup of the strained hot juice and stir to dissolve. Return to the remaining juice. Allow to cool for 15 minutes. Add the vodka.
4. In 4 glasses pour some juice, add a few bits of rhubarb, then juice and more rhubarb reserving a bit for garnish. Place into the fridge for at least 4 hours to set.
5. Before serving top with lightly whipped cream and a few pieces of rhubarb.
Share this:
More Food & Drink / Recipes