Waffle Recipe with Poached Tamarillo
Treat yourself this weekend with this tasty waffle recipe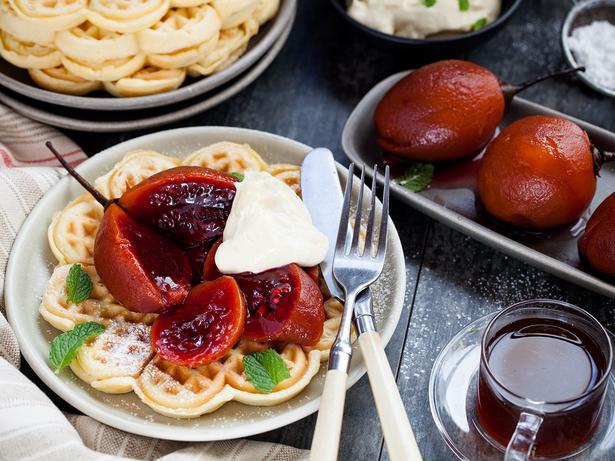 Friday July 22, 2016
I recently bought a waffle machine and we're having to be careful not to become 'waffled out' — they're so addictive served warm and fresh with all sorts of delicious sweet or savoury toppings. These ones I have smothered with brown sugar, creme fraiche and poached tamarillos, which I am enjoying while the season is here. Winter is the perfect time to add warm stewed fruit.

WAFFLE RECIPE WITH POACHED TAMARILLO
Makes 6
Poached Tamarillos
½ cup red wine
2 cups water
1 cup sugar
6 tamarillos, peeled
Waffles
2 ¼ cups self-rising flour
Pinch salt
3 Tbsp sugar
3 eggs, separated
1 ½ cups milk
125g butter, melted
50g creme fraiche
3 Tbsp brown sugar
Mint to garnish
1. Into a medium-sized pot place the wine, water and sugar. Bring to a simmer to dissolve the sugar. Add the tamarillos and poach for 10 minutes until softened. Remove and cool in their juice.
2. To make the waffles place the flour, salt and sugar into a bowl. Whisk in the egg yolks, milk and melted butter. Beat the egg white until light peaks are formed. Fold gently into the batter.
3. Preheat a waffle machine. Pour in half a cup of mixture spreading evenly with a spatula and cook for a few minutes until golden. Remove and continue with the remaining mixture.
4. Combine creme fraiche and sugar in a bowl.
5. Serve the warm waffles with tamarillos, a dollop of creme fraiche and mint.
Share this: