Walnut Shortbread Recipe with Feijoa and Ricotta Filling
This shortcake recipe is not too sweet, and quite impressive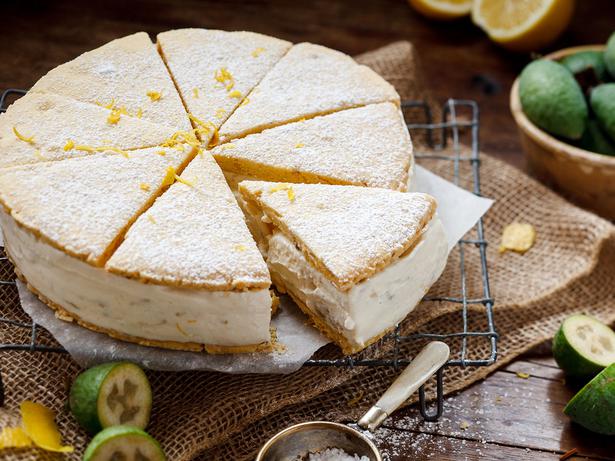 Wednesday April 20, 2016
One of our favourite desserts at the moment is walnuts baked into a basic shortbread recipe, cooked in two discs, cooled and filled with feijoas and ricotta. It's not too sweet, and quite impressive.

WALNUT SHORTBREAD WITH FEIJOA AND RICOTTA FILLING
Serves 8-10
Shortbread
• 160g butter, softened
• ½ cup sugar
• 1 cup cornflour
• 1 cup plain flour
• ¾ cup finely chopped walnuts
Filling
• 400g ricotta
• ½ cup caster sugar
• 2 tsp finely grated lemon zest
• ½ cup whipped cream
• 2 cups stewed feijoas
• Icing sugar to dust
1. Preheat an oven to 150C.
2. To make the shortbread, beat the butter and sugar until light and creamy. Stir in the flours and walnuts, mixing to form a soft dough. Divide the dough in half. Roll each piece on a lightly floured piece of baking paper to make two 20cm discs. Place in the fridge for 15 minutes.
3. Cut one of the disks into 8 or 10 wedges for the top. Bake the discs for 25 minutes until cooked but not browned. Cool.
4. Beat the ricotta, sugar and zest together. Fold through the whipped cream and feijoas.
5. To assemble, place one disc of shortbread on the base of a 20cm spring-form tin. Spoon on the filling and place the cut disc on top. Cover and place in the fridge for a few hours or overnight before serving.
6. Place on to a decorative plate and dust with icing sugar.
Share this:
More Food & Drink / Recipes