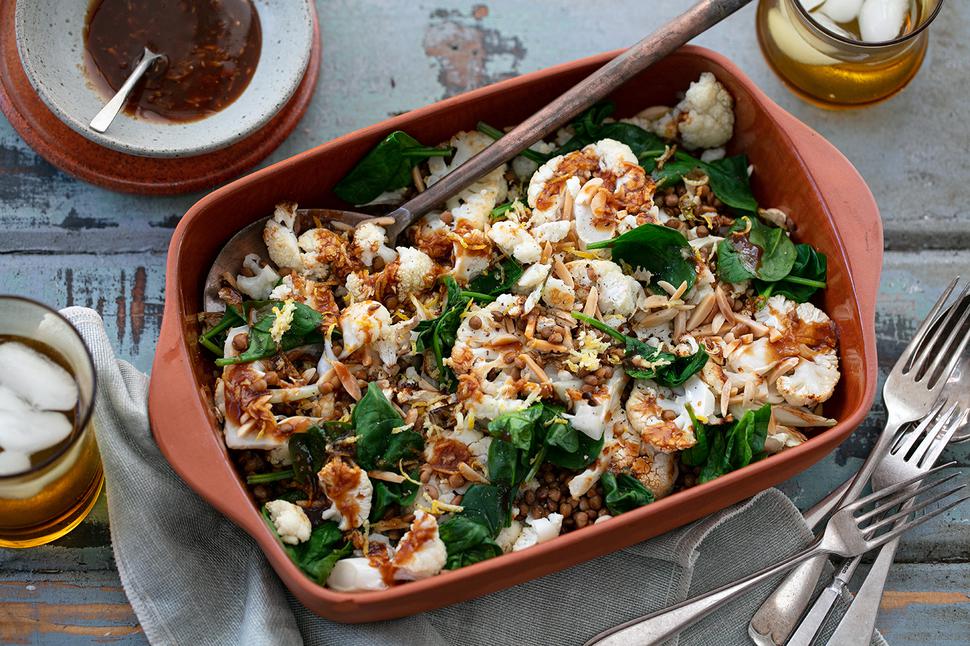 Warm Cauliflower & Lentil Salad With Tamarind Dressing
This salad's secret? A gorgeously tart dressing paired with a sprinkle of slivered almonds
Wednesday June 16, 2021
This is a great winter salad that can easily become a meal on its own. Try it with some chopped grilled chicken breast tossed through, or add fried halloumi. Tamarind adds a unique sour flavour to the dressing. It's worth getting a jar from the supermarket — it will last in the fridge for months.
WARM CAULIFLOWER AND LENTIL SALAD WITH TAMARIND DRESSING RECIPE
Serves 4
½ cauliflower, roughly chopped
3 Tbsp olive oil
2 tsp ground coriander
½ tsp ground cumin
½ tsp salt
1 cup shredded Brussels sprouts
400g tin brown lentils
2 cups baby spinach
½ cup toasted slivered almonds
Dressing
¼ cup smooth tamarind
1 Tbsp olive oil
2 tsp runny honey
Zest and juice of half a lemon
1. Preheat the oven to 180C.
2. In a large bowl place the cauliflower, 2 Tbsp oil, coriander, cumin and salt, tossing together well. Tip it out on to a baking tray. Place into the oven for 25 minutes until golden and crispy.
3. In a small frying pan warm the remaining oil. Cook the Brussels sprouts for a few minutes until lightly browned. Season, then tip into a large bowl. Add the baked cauliflower, lentils and spinach. Fold through the dressing. Serve in a large dish and sprinkle with almonds.
Share this: