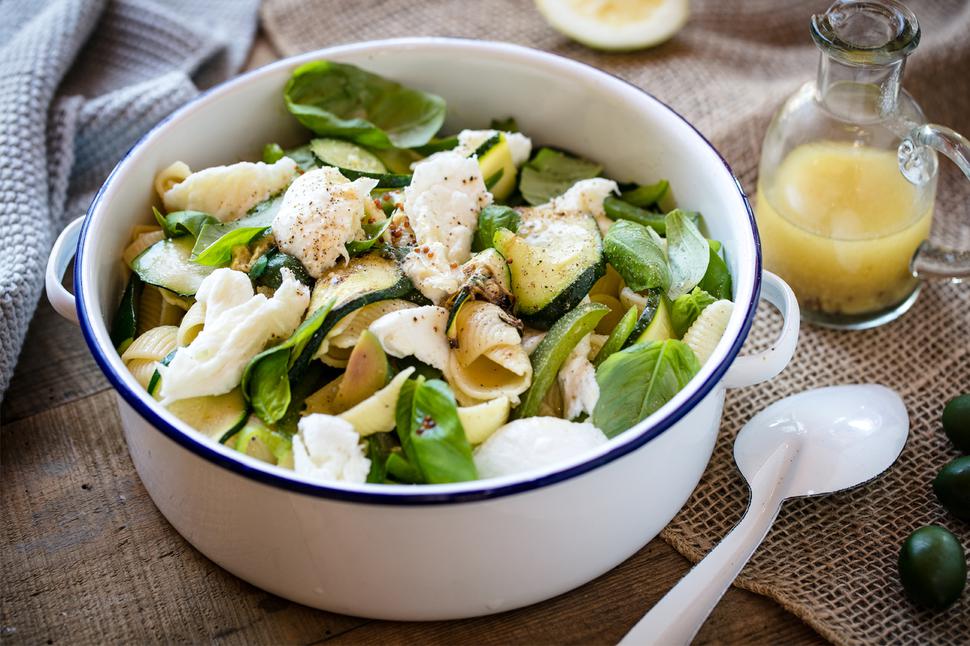 Warm Courgette & Mozzarella Pasta Salad
This salad really comes into its own with fresh mozzarella weaved through
Friday June 1, 2018
This courgette pasta salad recipe is a change from the usual saucy numbers, but equally as delicious with the soft, shredded mozzarella folded through. Nobody likes the thought of a pile of dishes at the end of dinner, so this meal is perfect because it takes minimum effort and creates minimal mess. 
WARM COURGETTE & MOZZARELLA PASTA SALAD
Serves 2
Dressing
¼ cup olive oil
2 Tbsp lemon juice
1 tsp whole grain mustard
1 tsp runny honey
Salad
2 Tbsp olive oil
½ onion, chopped
2 cloves garlic, crushed
½ green capsicum, sliced thinly
2 small courgettes, sliced thinly
2 tsp lemon zest
Salt and freshly ground pepper
2 cups cooked pasta shells
¼ cup green olives
1 cup basil leaves
2 Tbsp lemon juice
1 ball fresh mozzarella
1. Make the dressing by combining the oil, lemon juice, mustard and honey in a jar.
2. Heat oil in a medium-sized pot. Add onion and garlic, cooking until softened. Add capsicum and courgette and cook until lightly browned.
3. Stir through the lemon zest and season to taste. Add the pasta, olives, basil, lemon juice and heat through. Rip the mozzarella into pieces and fold through.
4. Toss through the dressing. Serve while warm or at room temperature.
Share this: